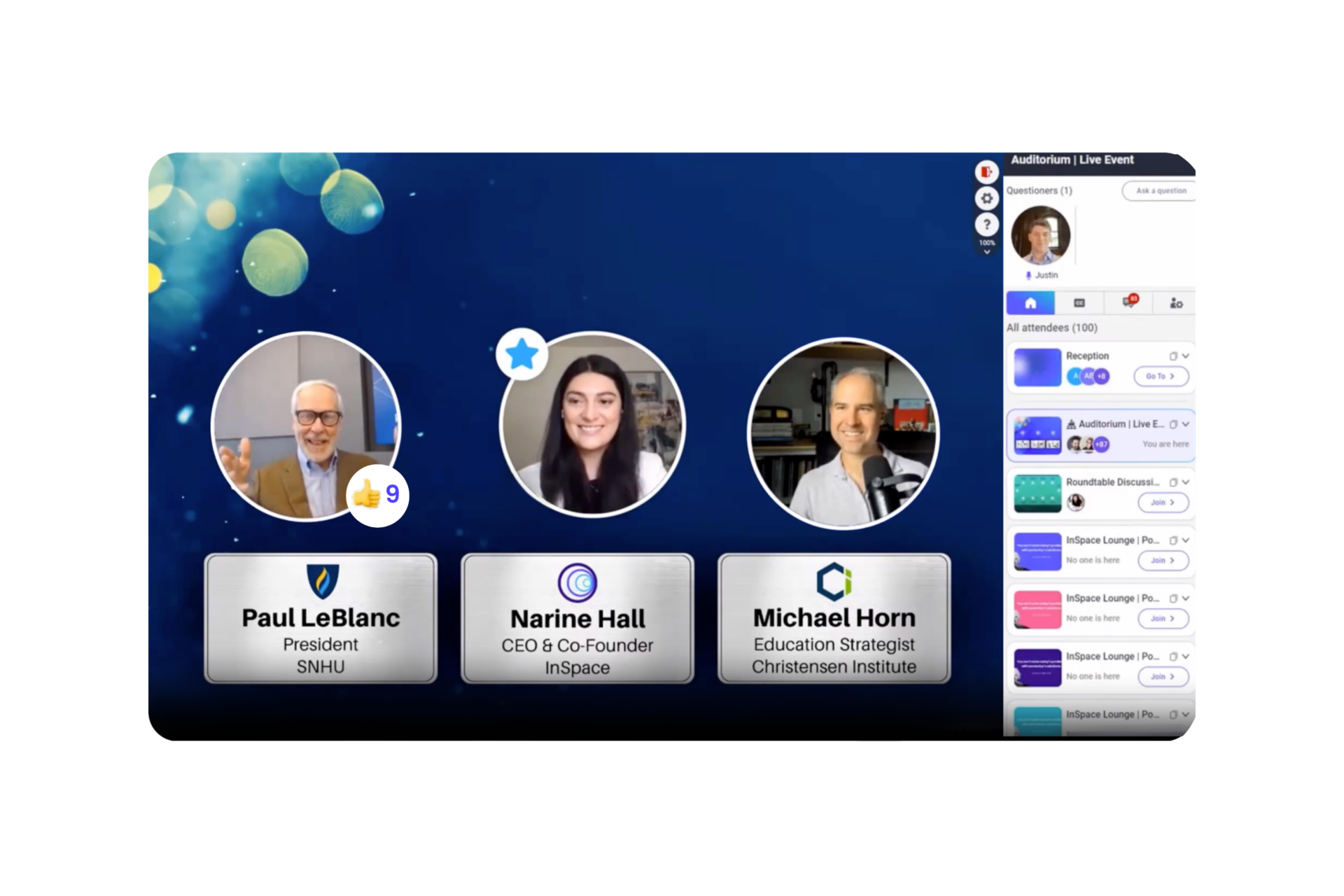 The Future of Online Education is All About Relationships
Two years ago, I listened to an ASU+GSV talk with SNHU President Paul LeBlanc about how so many well-intentioned educators inadvertently dehumanize the people they are supposed to serve. It resonated: I had witnessed some of these same things in the pandemic's shift to remote learning, and I remember wanting to pull Paul aside and show him that it was possible to create better, more human-centered systems and ways of learning. The path forward would involve building virtual spaces that enable us to connect seamlessly and socially with others. The things that make us thrive—having some control over our experiences, gaining a sense of purpose and belonging, and building community—are within our reach. I know because I helped build one such virtual collaboration platform.
This month, I had the chance to chat with Paul on the very platform I had wanted to show him. We talked about how the future of online education can be transformed for the better, to help more people learn, grow, collaborate, and get the support they need.
We're at a pivotal moment in education. The pandemic revealed the multitude of things that are wrong with our existing models, but it also spurred new ways of thinking. People are more digitally savvy. They're demanding more flexibility and control over their lives and experiences. Investors are seeing the potential for change and are pouring massive amounts of venture capital into online education and new technology. To top it all off, artificial intelligence is transforming every aspect of our lives, including our classrooms and jobs of the future.
What happens next can go two ways: We can maintain the status quo and make small, transactional changes. In this scenario, education will become even more stratified, with only the wealthy having the means to access the intensive, experiential, and collaborative learning we'll need in the future. Or we can apply new ways of thinking and tools to improve outcomes for more people. We can take the best of online education—the affordable, accessible model that's democratized education for millions of people—and transform it in revolutionary ways, giving students more choices and control over their experiences, more ways to learn and collaborate with others, and more personalized support when they need it. We can put people at the center of the experience and use machine learning to remove the logistics and drudgery work so they can focus on building the critical thinking skills and emotional intelligence they'll need in an AI-powered future.
After the event, while Paul and I were still chatting with others on the InSpace platform, I realized the topic we were discussing was of particular interest to one of my colleagues. And just as we all do, almost instinctively, at in-person events, I pulled them into the conversation from a different networking space. It felt as if we were at the ASU+GSV conference, chatting in the hallway where all the interesting conversations happen.
We are social creatures. We want our lives to be full of meaningful relationships and connections. For that to happen, we need to ensure the systems we create and the technology we build are centered on what it means to be human.
If you weren't able to join us at the event, here's a link to watch the livestream.
Notable sections include: Those lightbulb moments students have in the classroom and how to ensure they happen in online learning (06:32). How AI changes everything (10:04), especially assessments (13:41) and academic advising (20:35). Building community in online education (23:35). The need for both asynchronous and synchronous learning opportunities (29:51) and how to build and foster transformational relationships in online environments (30:49).