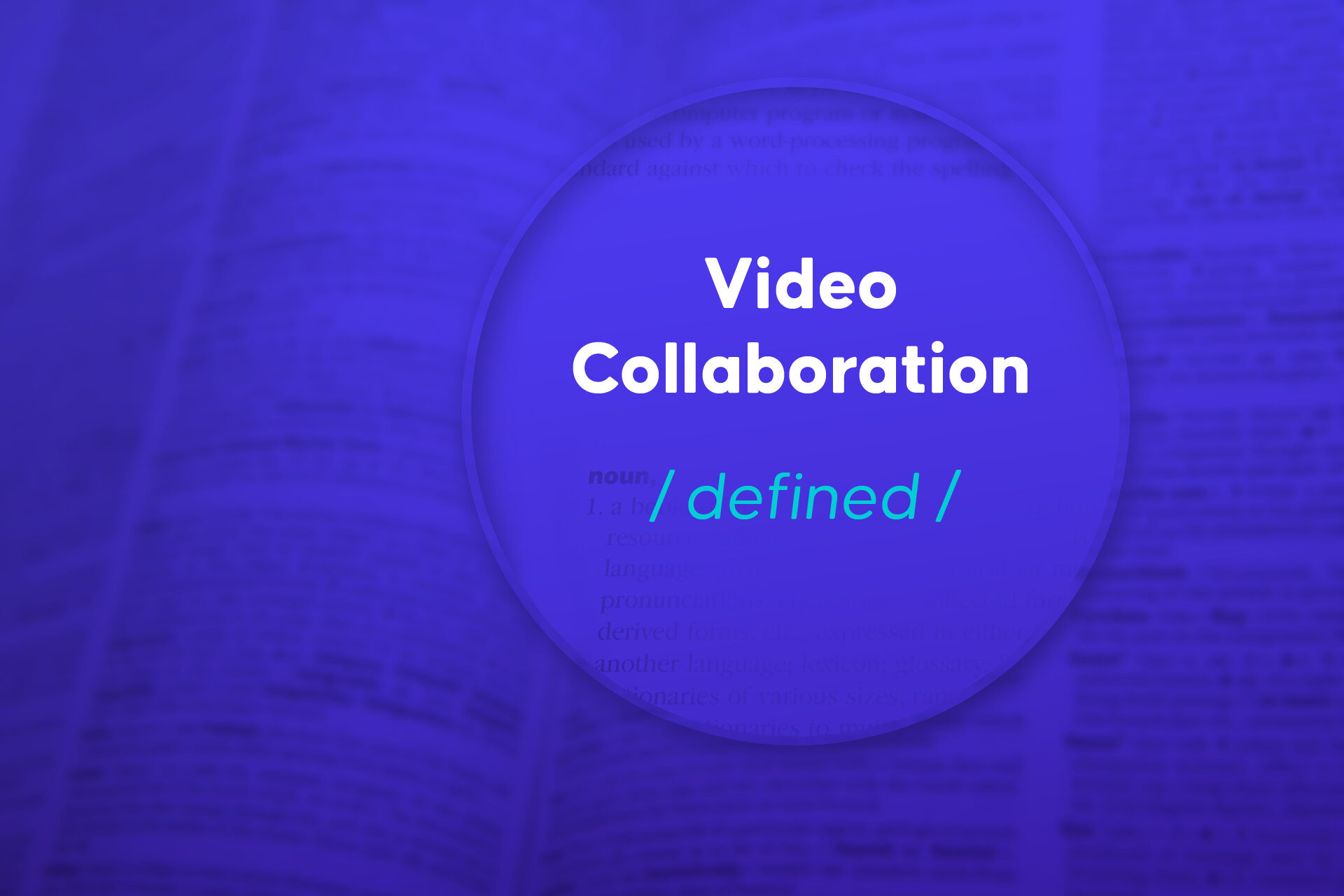 What is Video Collaboration?
Video collaboration and video conferencing are not the same. And when it comes to online learning, one is definitely more engaging and inclusive than the other. In this post, we'll explore what video collaboration is, how it's different from video conferencing, and why you need it at your institution.
Video Collaboration, Defined
Video collaboration blends the connection and communication capabilities of traditional video conferencing with the collaboration elements that people need to cultivate authentic, engaging online experiences.
Unlike traditional video conferencing, video collaboration creates a path for broader, more collaborative online learning experiences inside the classroom and beyond. And it fosters an inclusive, engaging community of learners, educators, and others across the institution so that everyone can thrive.
What Makes Video Collaboration Different from Video Conferencing?
We're glad you asked. While there are things that are similar, there are a number of ways that video collaboration and video conferencing are fundamentally different – from features and functions to the way they support online learning. And while we believe that both platforms have a role and a place on your campus, we believe that video collaboration truly elevates online learning experiences for educators and students alike.
The table below highlights the differences in features and functions between video collaboration and video conferencing.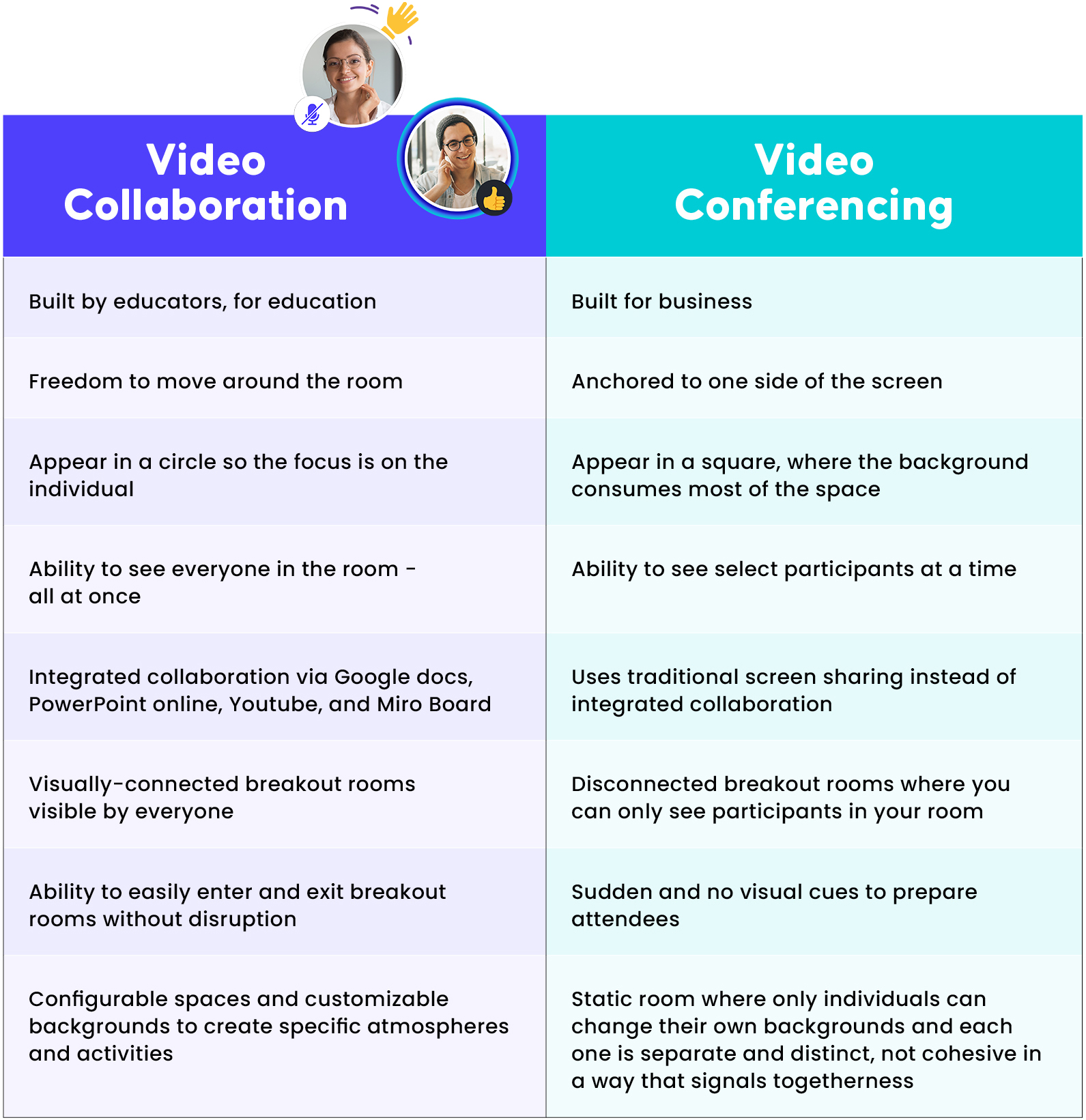 But what's more important than the differences listed above are the differences when it comes to the impact on online learning experiences
How Video Collaboration Enhances the Online Learning Experience
Online learning is garnering more attention than ever before. But it's not just because so many students and educators were forced to pivot online. Increasingly, students want more online learning experiences – both inside the classroom and beyond. And they want these experiences to feel authentic, engaging, and collaborative.
They don't want to passively listen to a lecture via Zoom. They want to actively interact with their peers – and get to know them through social activities. Collaborate around a virtual whiteboard or Google doc. Or have small group conversations as they would in-person.
They also want to continue their engagement offline – through asynchronous engagement that extends well beyond the virtual classroom. And they want these experiences to feel connected and have a sense of community with their peers.
That's what video collaboration is for. It recreates the experiences that define education – the ones where students and their instructors engage with each other both inside the classroom and offline. Where they can move around the virtual room to experience different parts of the lesson and content in different ways. And where they can replicate the authentic experiences they have on campus, whether inside the classroom or during office hours, tutoring sessions, or advising appointments. Traditional video conferencing simply does not provide the same experience.
Built by educators, for education
An important distinction between video collaboration and video conferencing is that video collaboration is designed by educators, for education. This is important, because video conferencing was not. Instead, it was designed for business – where meetings are the standard, not dynamic, engaging learning experiences. 
When InSpace, co-founders Narine Hall, PhD and Haykanush Lputyan created InSpace, their number one priority was to give educators an alternative to traditional video conferencing because as a professor, Dr. Hall knew that using traditional video conferencing limited the opportunities for authentic online engagement. Educators could only see a few of their students at once. And students they could see were stuck in a box on the screen, unable to move around or easily interact with others.
That experience changes with video collaboration by InSpace. Learners can actively participate in the entire online learning community. Not only is everyone visible on the screen, all at once, but learners can engage with their instructors and classmates in more authentic ways by moving freely around the room and breaking out into groups to collaborate around a virtual whiteboard or in smaller-group discussions. As a result, they experience a community that is more inclusive and engaging – not one that feels transactional and static, like traditional video conferencing.
Driving active participation in an engaging online learning community
Unlike traditional video conferencing where learners are passively stuck in one spot, video collaboration creates an environment where everyone can actively participate in the learning community. And a more engaged community leads to more opportunities, a larger network, and more hands-on experience than is possible through traditional video conferencing. 
For students, video collaboration provides an environment that is way more engaging than traditional video conferencing. Not only can they move around the room to collaborate with each other more easily, but they can experience online learning in a totally different way through ice breakers, teamwork activities using integration with collaborative applications like Google docs and Miro Board, and increased engagement with their community.
Katherine Dauge-Roth, Associate Professor of Romance Languages and Literatures at Bowdoin College, even used InSpace to create an interactive board game for her intermediate French students. She made the background a board game, where each student's circle was the game piece. As they advanced through the game by drawing virtual "cards," students moved their circles backwards and forwards on the board, creating a fun, engaging experience to practice new language vocabulary. 
"What is incredible about InSpace that you don't get with Zoom is the ability to move around the room. And I think that ability to replicate the in-person kinds of exchange that languages necessitate is invaluable. It's just an incredible feature of InSpace that Zoom cannot replicate," said Katherine. 
It's these kinds of interactive experiences that really make the use of video collaboration different and engaging. 
Irina McLaughlin, M.A. at University of Central Florida, shared "the feedback [from students] was wow, this is so much fun! I enjoy moving around the room. I really enjoy this interactive element [of the classroom]."
Irina went on to share "I found so many benefits that I introduced InSpace to my colleagues – and they agreed to give it a try. [InSpace] really replicates the face-to-face classroom where we can do a lot more and have a lot more interaction – and a lot more fun – compared to Zoom."
Supporting the evolution of online learning 
Online learning isn't new. But over the past few years, the demand for online learning has increased. But as the demand has increased and new modalities have emerged, so too have the needs of students and instructors. They want more from online learning. They want experiences that go beyond the online classroom to include the whole learning experience. And that's something that only video collaboration and InSpace can provide.
Educators recognize that there is so much opportunity beyond the online classroom. Opportunities to engage their students synchronously and asynchronously in ways that enrich their learning experiences. They can move beyond transactional, standard lectures to enhance the learning experience through engaging activities, vibrant collaborations, and inclusive environments that help all learners to thrive. 
Institutions also see how they can expand video collaboration to other areas on campus such as admissions, advising, and support services so they, too, can foster a more engaged community of learners. Chaffey College recognized this opportunity and quickly made the move to introduce InSpace to the support areas on campus.
"The support areas have been predominantly face-to-face. And that reliance has really been difficult because we have a robust support structure and didn't have the best vehicles to do that. And that's one of the things that's been really exciting about InSpace. It provides the ability to collaborate in those types of settings which Zoom and other types of platforms just don't afford," commented Rob Rundquist, Dean of Institutional Effectiveness at Chaffey College.
An Opportunity to Change Engagement for Online Learning Communities
When designing InSpace, the co-founders knew they had an opportunity. Not to change the way educators teach, but rather to redefine how they – and their institutions – think about engagement. They saw an opportunity to reshape the online learning experience through video collaboration that provided opportunities for engagement that go beyond what a built-for-business video conferencing tool could provide. 
That's what makes video collaboration – and InSpace – different. Through capabilities such as visually-connected breakout rooms and proximity-based audio, students and instructors can collaborate actively. They can see everyone in the room, all at once. And they can extend this experience beyond the classroom to cultivate communities across campus in areas such as admissions, advising, and support services. All of these areas of the institution appreciate the experience that InSpace provides as they work to engage students and deliver the support they need to succeed across the student experience. 
To learn more, visit https://inspace.chat.