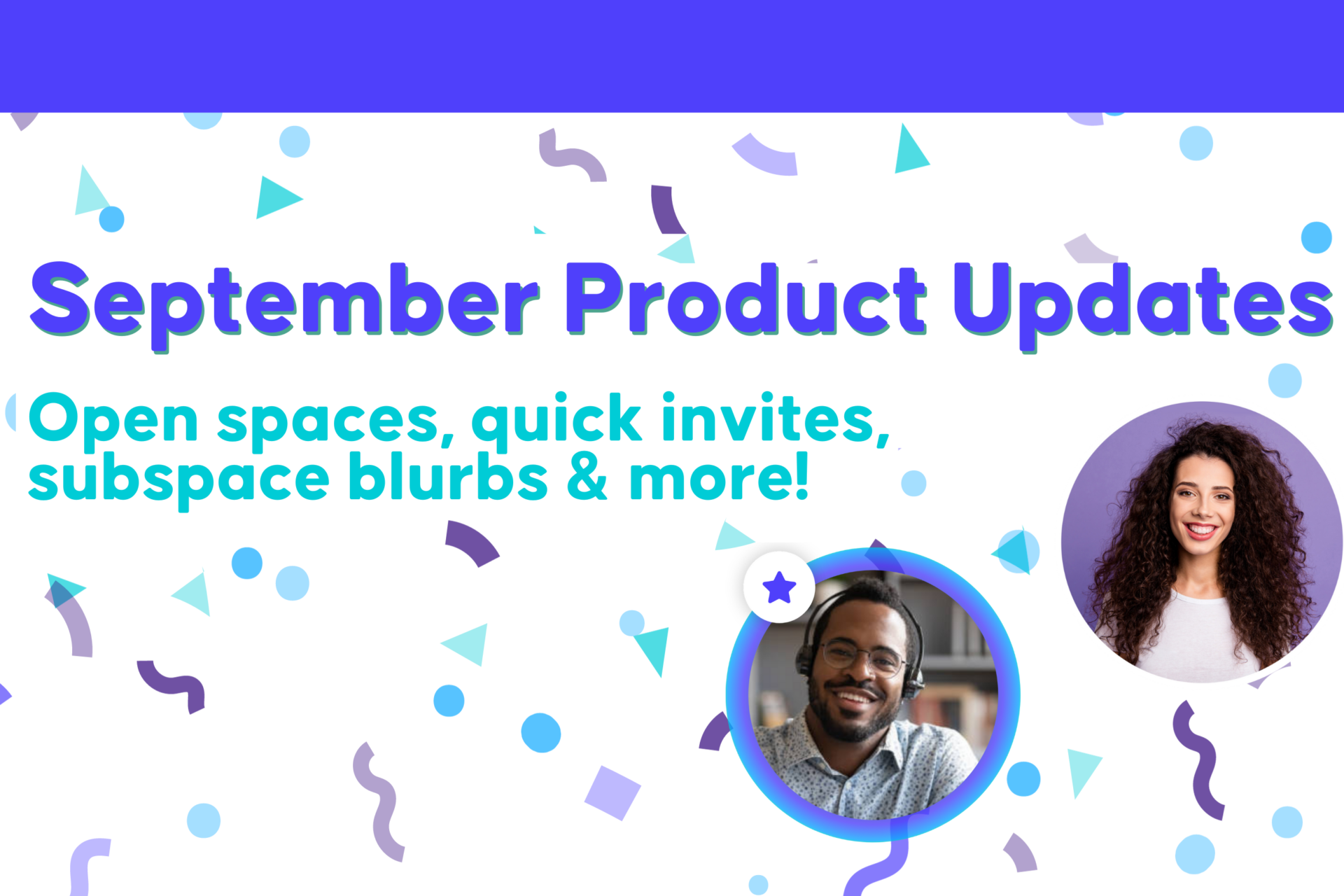 September Product Updates
As we move into the vibrant colors of September, we're equally excited to introduce a slew of new features and enhancements to the InSpace platform.
Here's what's new and improved:
New Features
Flexible Space Types
Ever wished for a quicker way for participants to join without the hassle of signing in? Introducing our new Open Space functionality, available to InSpace Hosts on their Dashboard when creating or editing Spaces. Easily toggle between Open and sign-in required settings, even while a session is live, ensuring flexibility without compromising security. Learn more.
Invite User from the Space
Inviting participants has never been easier. Whether it's a spontaneous invite or part of a plan, registered users can send invites straight from the attendee list, along with a custom 500-character message. New to InSpace? Clicking "join space" sets you up and gets you in without the need to create an account. See it in action here. 
Engaging Subspace Descriptions in the Experience Hub
Add character to your spaces! With a 150-character limit, curate engaging descriptions for each space. Simply click on the "i" icon to view, and with another click, it's gone. Dive deeper here.
Improvements
Total Control Over Background Images
Tailor your Space look and keep your gallery organized. Now, gain more control by deleting any uploaded background image. If the image is active in several spaces, don't worry; it resets to our default background, ensuring your spaces always look great.
Effortless Audio Transcription
Built-in accessibility and note-taking support is here. When you hit record for a video, we automatically transcribe the audio. Perfect for those "What did they say again?" moments. Plus, when you share your videos, transcripts are automatically included in the shared link.
Streamlined Coordinate Improvements
Movement within spaces just got an upgrade. Expect seamless navigation as you interact in your spaces and move from room to room.
Display Sub-space Name on Join Page
Subtle but handy. Now when you're hopping between sub-spaces, the name displays on the join page. Those using the LTI advising integration will appreciate this touch too.
Enhanced User Experience for Sharing Content
We've honed in on the little details:

Sharing YouTube or Google Drive links? The input field's now auto-focused.
Sharing PPT/PDFs? Use the "enter/return" key to upload.
Sharing live videos? "Choose any device" is pre-selected for you.

Setting Co-hosted Space as Calendar Default from the Dashboard
Integration with Google Calendar just leveled up. Users can now set their "co-hosted" spaces as the default directly from the Dashboard.
Our goal at InSpace is to offer you a platform that's not only innovative but also intuitive. We hope these updates further your experience, and as always, your feedback is welcome. Happy navigating! 🚀🌌
Stay tuned for next month's updates! 📅🔔