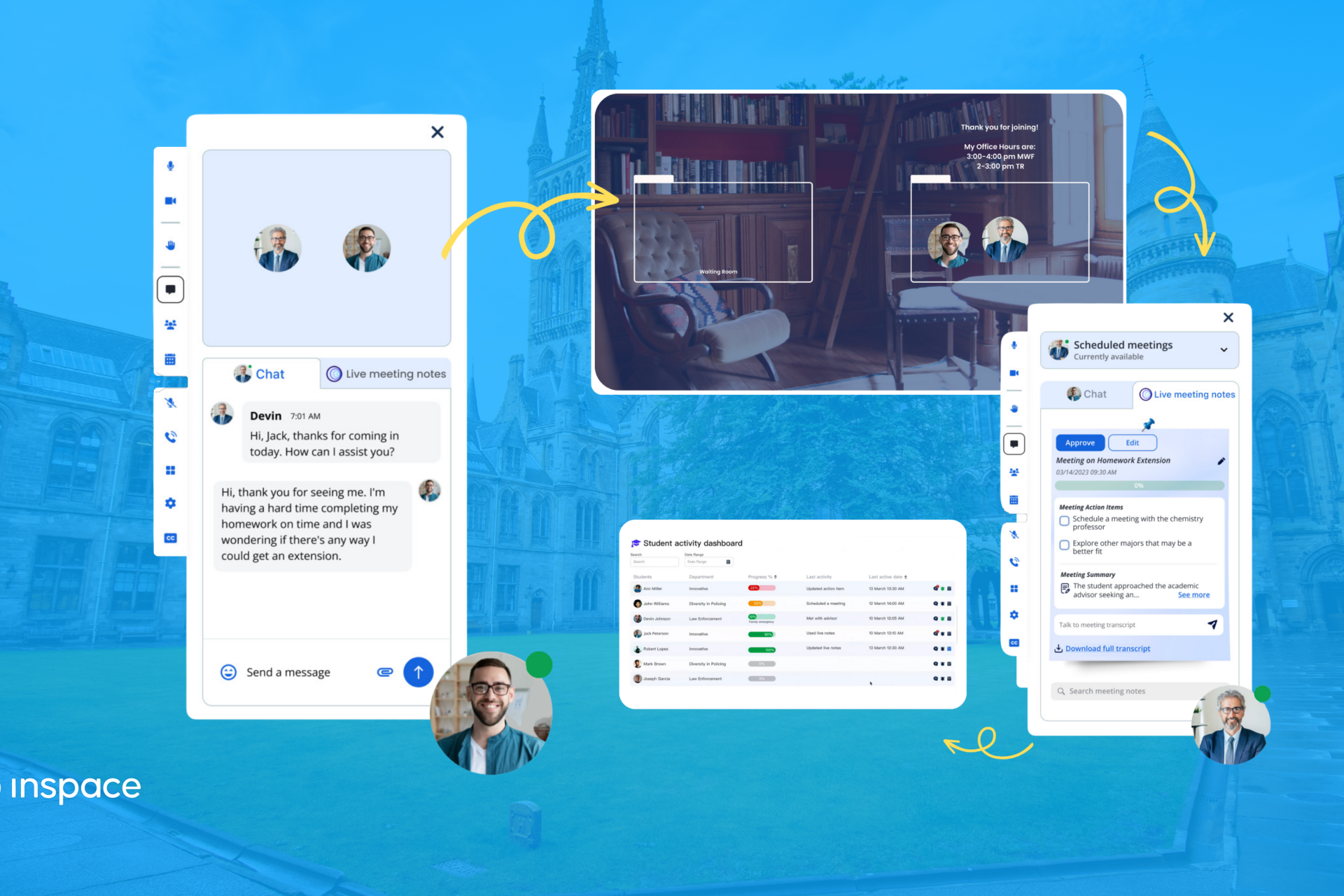 Revolutionizing Academic Advising: How InSpace's AI-Powered Platform Connects Students and Advisors for an Equitable Learning Experience
Academic advising can reach every student at the institution; it's time to leverage it.
According to Eric R. White, executive director of the Division of Undergraduate Studies, the associate dean for advising at Pennsylvania State University, and a past president of NACADA, "Some configuration of academic advising is available at all American higher education institutions. In fact, academic advising is capable of reaching every single student enrolled at an institution."
This places a moral imperative on institutions to do better and to do differently. When students cannot get advice on their degree progress and cannot get support, this directly impacts their futures.
For many students, this ultimately comes down to their advisor's availability.
Are professors available to support the student if the school uses a faculty advisement model? Do they understand specifically how to support the student? If a school has a professional advising system, do the advisors follow a student schedule or a strict 9-5? If the advising team runs dispersed hours, how do they communicate across shifts? How are they entering notes and communications? Where are the gaps? How do advisors deal with asynchronous communication needs with internal teams?
How do advisors deal with unintentional gaps, claims of bias, or advisor-shopping? What about inadvertent errors that may end up costing a student money, such as inaccurate advice on registration? How are institutions ensuring consistent messaging across the institution and across advisors?
The solution lies in deeply embedding advisors into the student's daily life. If it's part of the student's ecosystem, then the connections of the advisor become a natural part of their educational journey from day one.
Your campus, everywhere.
One code on your platforms unites your campus tech stack for an equitable and accessible student experience.
InSpace's immersive AI-powered video platform gives students more control over their online learning environment, empowering them to make meaningful connections with their peers, staff, and professors with the click of a button.
InSpace is known for putting community, collaboration, and relationship-building at the center of online teaching and learning. Now, this immersive learning environment is available campuswide as a front door for everyone at your institution, streamlining processes and logistics for students and staff.
Install anywhere your students are.
InSpace's intuitive online education platform, designed by and for educators, promotes purposeful, productive, and joyful connections between students, professors, advisors, and coaches. It seamlessly integrates with existing learning management systems, adding innovative features such as AI-powered virtual assistants and live notes. And, InSpace removes barriers, provides flexible opportunities, and builds strong learning communities.
AI-powered features, including a virtual assistant that harnesses institutional knowledge to answer students' questions in real time.

With one click, students who need help can see when advisors are available, make an appointment, add it to their calendar, and join a meeting—all in one beautiful, fun, and collaborative space.

An innovative Live Notes tool seamlessly generates meeting notes, summaries, and action items, providing students with a clear course of action.

Notes are saved in a centralized, searchable archive, where students and staff can quickly reference previous conversations.

Dashboards for professionals enable at-a-glance check-ins, nudges, and notifications so that students don't fall through the cracks and advisors are always up to date on student progress.
When it comes to academic advising, students seek meaningful connections with peers, faculty, and staff on campus, but it's not happening enough.
At InSpace, we're passionate about creating learning experiences that center the joy of the student journey and make learning a social experience. Students thrive when they collaborate with others, including with their academic advisors. The student experience blossoms when students themselves take ownership of the student experience in collaboration with their advisors.
With the launch of the campuswide InSpace advising experience, we're working to dismantle barriers to quality conversation and connection.
Together, we'll harness the power of technology to take the logistics out of the way for advisors, students, and administrators so they can focus on what they do best: learning, teaching, and building community.
---
We hope you will join us as we reimagine the future of online education together.