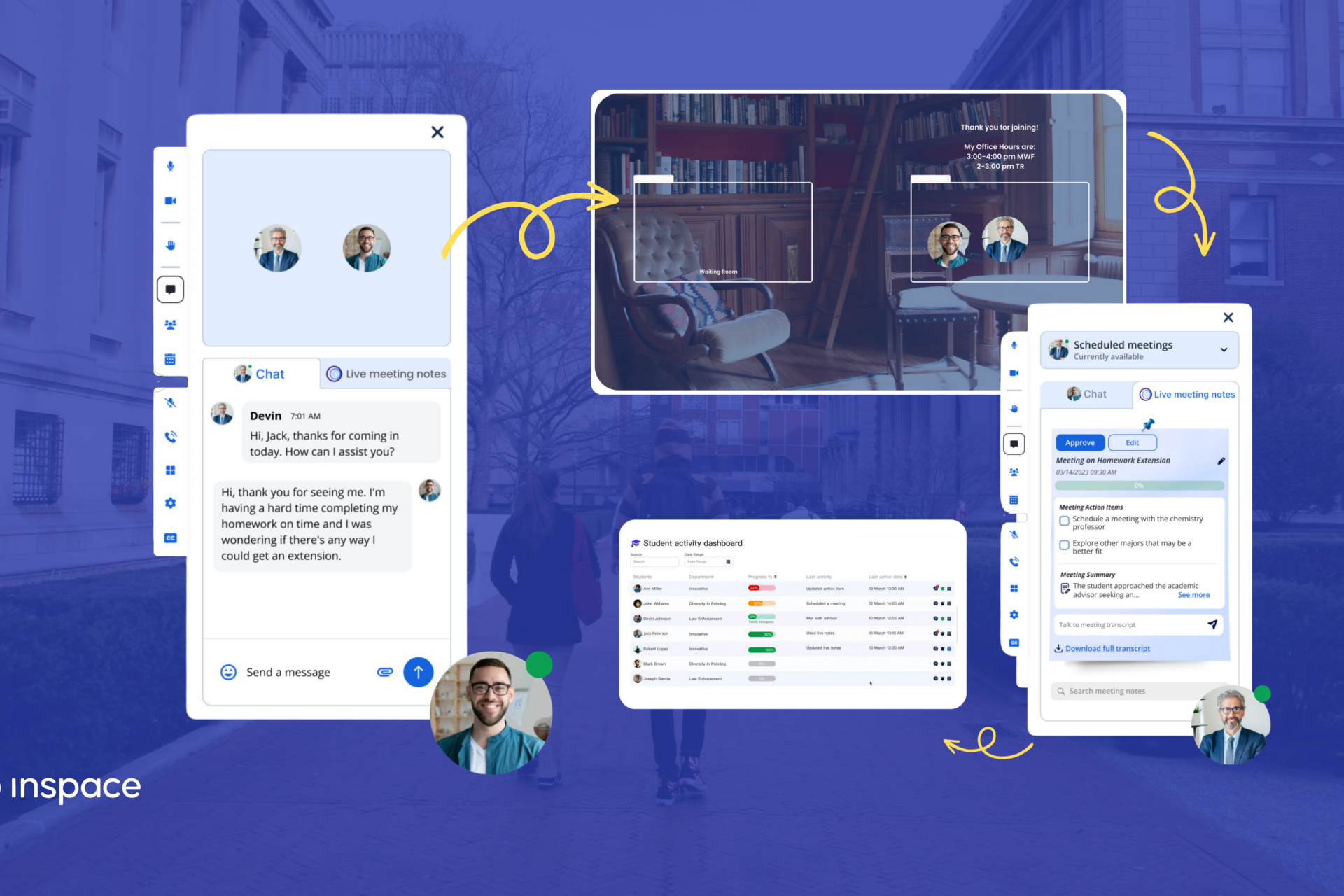 Reimagining Student Services: How InSpace's AI-Powered Platform Streamlines Processes and Empowers Students
Proactive student services help students find what they need and give them greater access to their own data.
As one Student Voice survey respondent from a California community college states, "There were times I was looking to do something, and I needed help on where to find it. I go to a particular office and they tell me it's at a different office. In that office they tell me, no, it's in another office. The people inside the offices [don't] know where I should go."
On campus, students completing the 'chores' of higher ed may find themselves shuffling between offices and buildings in a campuswide crisscross. It's also not guaranteed that students will make it from point A to point B–and these tasks are crucial for student success and retention.
The virtual landscape poses a different set of challenges. Students completing administrative tasks online face unfamiliar verbiage, numerous links, and limited ways to get real-time help.
The one-stop shop consolidation of essential student services on physical and virtual campuses is a common step toward reducing student frustration and improving student access. But what if your student services were even more proactive?
Students don't care which department owns each aspect of their journey—they view their relationship with the institution as one. It's essential for offices across the system to share data.
Rob Rundquist, Dean of Institutional Effectiveness at Chaffey College, says such an institutional shift in the treatment of student data would revolutionize education: "Transparency is a value in academics, but transparency to students is a real problem […] When you shift this to the student, the student owns that experience they had with you as a counselor. They own the experience they had in the classroom. That is a cataclysmic shift of power dynamics that has to happen."
Your campus, everywhere.
One code on your platforms unites your campus tech stack for an equitable and accessible student experience.
InSpace's immersive AI-powered video platform gives students more control over their online learning environment, empowering them to make meaningful connections with their peers, staff, and professors with the click of a button.
InSpace is known for putting community, collaboration, and relationship-building at the center of online teaching and learning. Now, this immersive learning environment is available campuswide as a front door for everyone at your institution, streamlining processes and logistics for students and staff.
Install anywhere your students are.
InSpace's intuitive online education platform, designed by and for educators, promotes purposeful, productive, and joyful connections between students, professors, advisors, and coaches. It seamlessly integrates with existing learning management systems, adding innovative features such as AI-powered virtual assistants and live notes. And, InSpace removes barriers, provides flexible opportunities, and builds strong learning communities.
AI-powered features, including a virtual assistant that harnesses institutional knowledge to answer students' questions in real time.

With one click, students who need help can see when advisors are available, make an appointment, add it to their calendar, and join a meeting—all in one beautiful, fun, and collaborative space.

An innovative Live Notes tool seamlessly generates meeting notes, summaries, and action items, providing students with a clear course of action.

Notes are saved in a centralized, searchable archive, where students and staff can quickly reference previous conversations.

Dashboards for professionals enable at-a-glance check-ins, nudges, and notifications so that students don't fall through the cracks and advisors are always up to date on student progress.
When it comes to academic advising, students seek meaningful connections with peers, faculty, and staff on campus, but it's not happening enough.
At InSpace, we're passionate about creating learning experiences that center the joy of the student journey and make learning a social experience. Students thrive when they collaborate with others, including with their academic advisors. The student experience blossoms when students themselves take ownership of the student experience in collaboration with their advisors.
With the launch of the campuswide InSpace advising experience, we're working to dismantle barriers to quality conversation and connection.
Together, we'll harness the power of technology to take the logistics out of the way for advisors, students, and administrators so they can focus on what they do best: learning, teaching, and building community.
---
We hope you will join us as we reimagine the future of online education together.