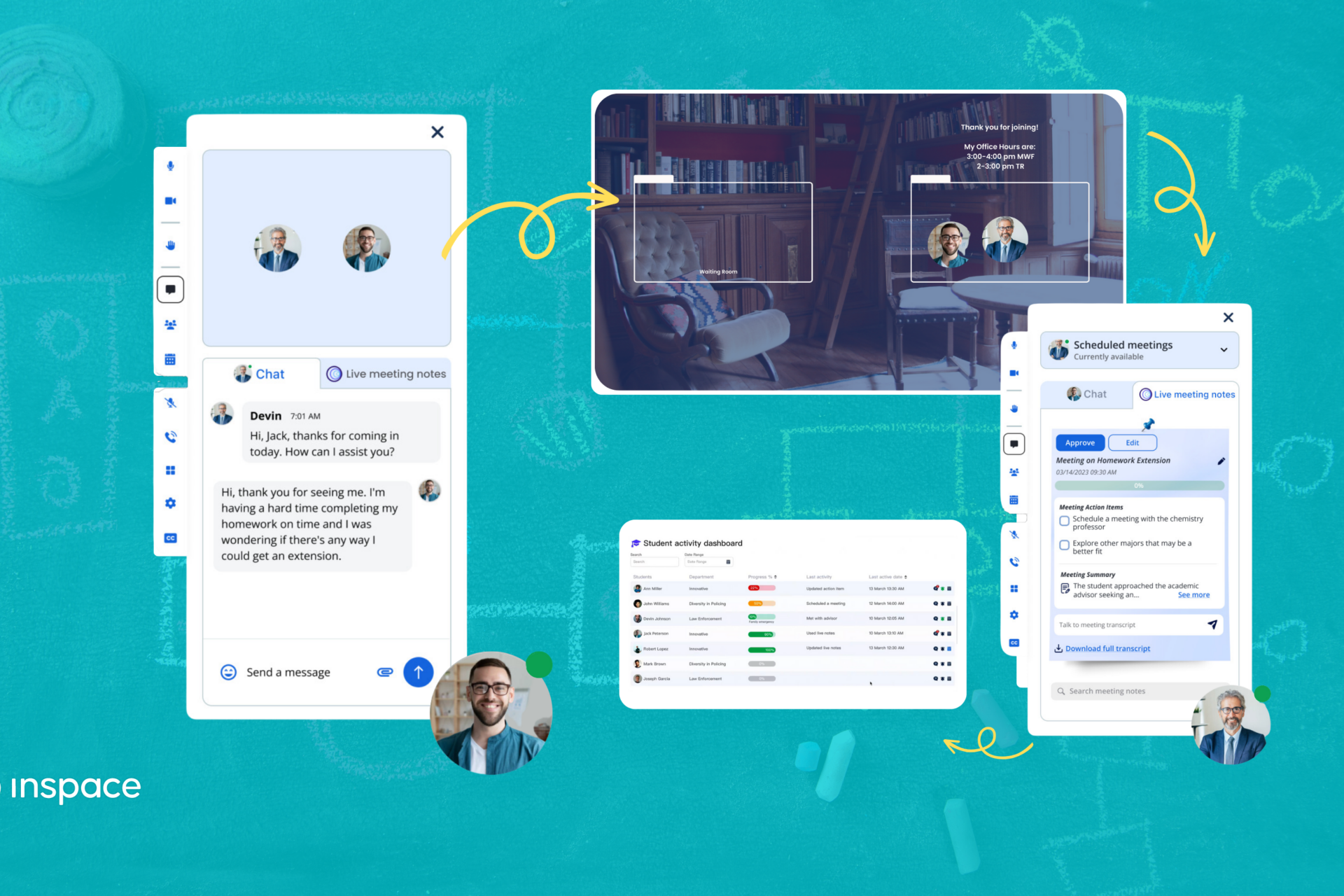 Proactive and Personalized Academic Advising Support with InSpace's AI-powered Platform
Academic advising is no longer a casual, drop-in endeavor; it's essential to the student academic experience.
Interviewed on Office Hours with John Gardner, Georgia State's Dr. Tim Renick characterizes past generations' academic advising as a casual enterprise. Students who needed help would self-identify and approach advisors. As a result, even today most student support systems are passive, designed at a time when most students didn't need that particular support. Students tended to self-diagnose their problems and navigate the bureaucracy to find help.
The reality, said Renick, is that today's students are not those of the past. The typical modern student is low-income, Pell-eligible, and from a minoritized background. Odds are, they will need student support services to access their education fully.
Advising, as a result, must evolve to become proactive—existing in the spaces where students congregate both on campus and digitally to serve them with personalized support on the platforms they understand
But another characterization of proactive might be 'intrusive.' Researchers exploring this dynamic are applying conflict resolution approaches to advising—dealing with the intrusion inherent to modern academic advising upfront.
In this view, "advisors should understand that conflict is not negative but an avenue to build healthy relationships. Although advisors and advisees may have conflicting opinions, those opinions are necessary to fuel collaborative actions" (Sims 2013) Sims writes that effective academic advising requires relationship building, which requires rapport. Culturally relevant teaching practices tell us that connecting to an individual's schema by planting mental 'hooks' into the knowledge and experiences they bring into a new context helps all learners make connections and find belonging in new situations.
Your campus, everywhere.
One code on your platforms unites your campus tech stack for an equitable and accessible student experience.
InSpace's immersive AI-powered video platform gives students more control over their online learning environment, empowering them to make meaningful connections with their peers, staff, and professors with the click of a button.
InSpace is known for putting community, collaboration, and relationship-building at the center of online teaching and learning. Now, this immersive learning environment is available campuswide as a front door for everyone at your institution, streamlining processes and logistics for students and staff.
Install anywhere your students are.
InSpace's intuitive online education platform, designed by and for educators, promotes purposeful, productive, and joyful connections between students, professors, advisors, and coaches. It seamlessly integrates with existing learning management systems, adding innovative features such as AI-powered virtual assistants and live notes. And, InSpace removes barriers, provides flexible opportunities, and builds strong learning communities.
AI-powered features, including a virtual assistant that harnesses institutional knowledge to answer students' questions in real time.

With one click, students who need help can see when advisors are available, make an appointment, add it to their calendar, and join a meeting—all in one beautiful, fun, and collaborative space.

An innovative Live Notes tool seamlessly generates meeting notes, summaries, and action items, providing students with a clear course of action.

Notes are saved in a centralized, searchable archive, where students and staff can quickly reference previous conversations.

Dashboards for professionals enable at-a-glance check-ins, nudges, and notifications so that students don't fall through the cracks and advisors are always up to date on student progress.
When it comes to academic advising, students seek meaningful connections with peers, faculty, and staff on campus, but it's not happening enough.
At InSpace, we're passionate about creating learning experiences that center the joy of the student journey and make learning a social experience. Students thrive when they collaborate with others, including with their academic advisors. The student experience blossoms when students themselves take ownership of the student experience in collaboration with their advisors.
With the launch of the campuswide InSpace advising experience, we're working to dismantle barriers to quality conversation and connection.
Together, we'll harness the power of technology to take the logistics out of the way for advisors, students, and administrators so they can focus on what they do best: learning, teaching, and building community.
---
We hope you will join us as we reimagine the future of online education together.