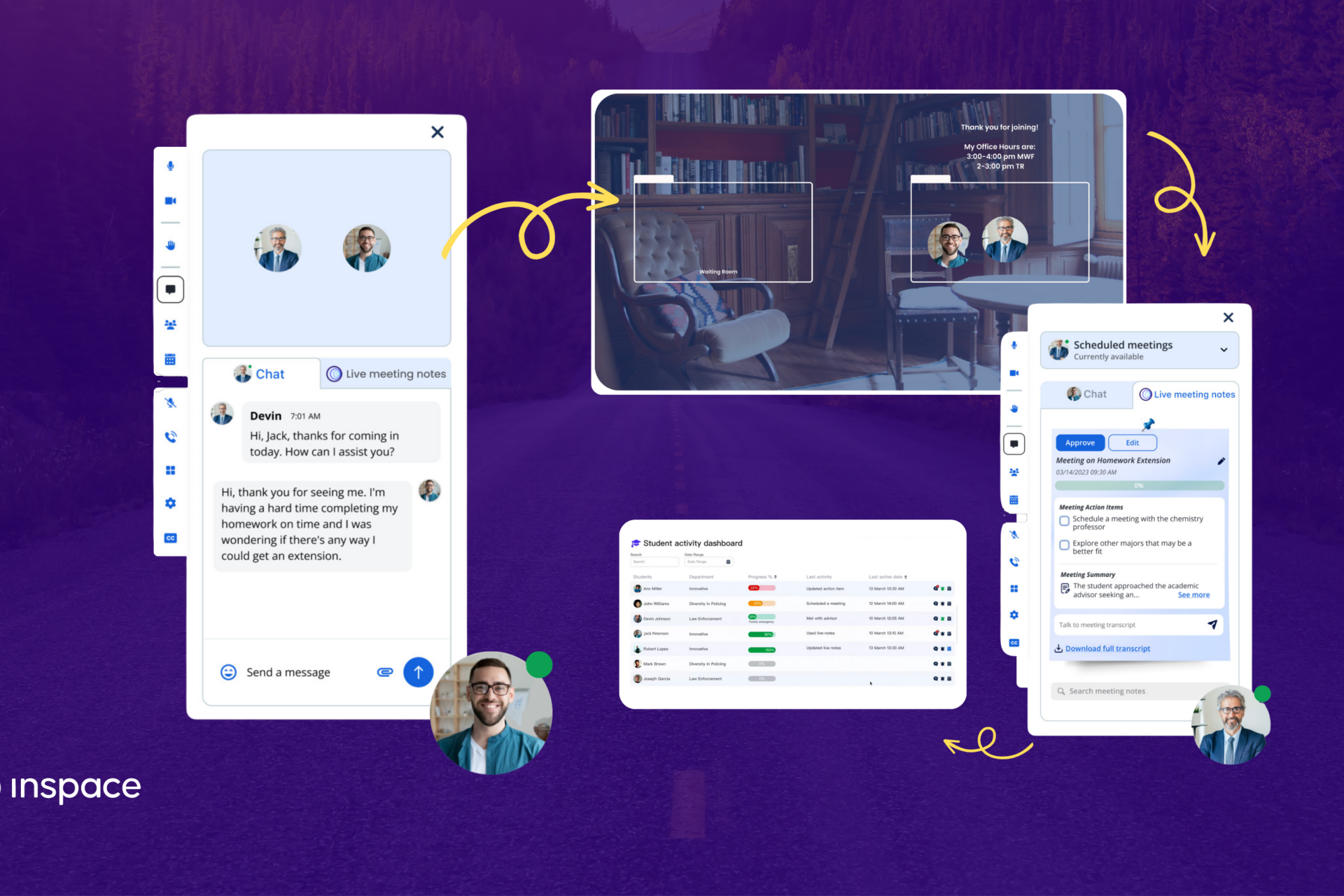 Pave the Road to Student Success with InSpace's AI-Powered Advising Platform
Learners want to make meaningful connections with their advisors, peers, and professors, but whether on-campus or online, it's not happening enough.
The struggle is, by now, familiar. Craters, potholes, cracks, and gaps dapple the road to college. Along the way, students face the dangers of stopping out, dropping out, staying out, and even melting before ever enrolling. 
Low-income, first-generation, and racially minoritized students have navigated these obstacles on the path to college for years—but when the COVID-19 pandemic led to school closures in spring 2020, the broader higher ed community began to feel the bumps in the road too.
There's no academic advisor out there without stories of students lost along the way to time, finances, Internet connectivity, illness, or circumstance during the early months of the pandemic. It quickly became clear that as closings cascaded across the country and operations migrated online, not all students followed.
The pandemic didn't create inequitable access to education and academic advisement. It only made it harder to overlook.
We've all seen the road our students travel. How can we, as academic advisors, pave the road to student success for all students?
Your campus, everywhere.
One code on your platforms unites your campus tech stack for an equitable and accessible student experience.
InSpace's immersive AI-powered video platform gives students more control over their online learning environment, empowering them to make meaningful connections with their peers, staff, and professors with the click of a button.
InSpace is known for putting community, collaboration, and relationship-building at the center of online teaching and learning. Now, this immersive learning environment is available campuswide as a front door for everyone at your institution, streamlining processes and logistics for students and staff.
Install anywhere your students are.
InSpace's intuitive online education platform, designed by and for educators, promotes purposeful, productive, and joyful connections between students, professors, advisors, and coaches. It seamlessly integrates with existing learning management systems, adding innovative features such as AI-powered virtual assistants and live notes. And, InSpace removes barriers, provides flexible opportunities, and builds strong learning communities.
AI-powered features, including a virtual assistant that harnesses institutional knowledge to answer students' questions in real time.

With one click, students who need help can see when advisors are available, make an appointment, add it to their calendar, and join a meeting—all in one beautiful, fun, and collaborative space.

An innovative Live Notes tool seamlessly generates meeting notes, summaries, and action items, providing students with a clear course of action.

Notes are saved in a centralized, searchable archive, where students and staff can quickly reference previous conversations.

Dashboards for professionals enable at-a-glance check-ins, nudges, and notifications so that students don't fall through the cracks and advisors are always up to date on student progress.
When it comes to academic advising, students seek meaningful connections with peers, faculty, and staff on campus, but it's not happening enough.
At InSpace, we're passionate about creating learning experiences that center the joy of the student journey and make learning a social experience. Students thrive when they collaborate with others, including with their academic advisors. The student experience blossoms when students themselves take ownership of the student experience in collaboration with their advisors.
With the launch of the campuswide InSpace advising experience, we're working to dismantle barriers to quality conversation and connection.
Together, we'll harness the power of technology to take the logistics out of the way for advisors, students, and administrators so they can focus on what they do best: learning, teaching, and building community.
---
We hope you will join us as we reimagine the future of online education together.