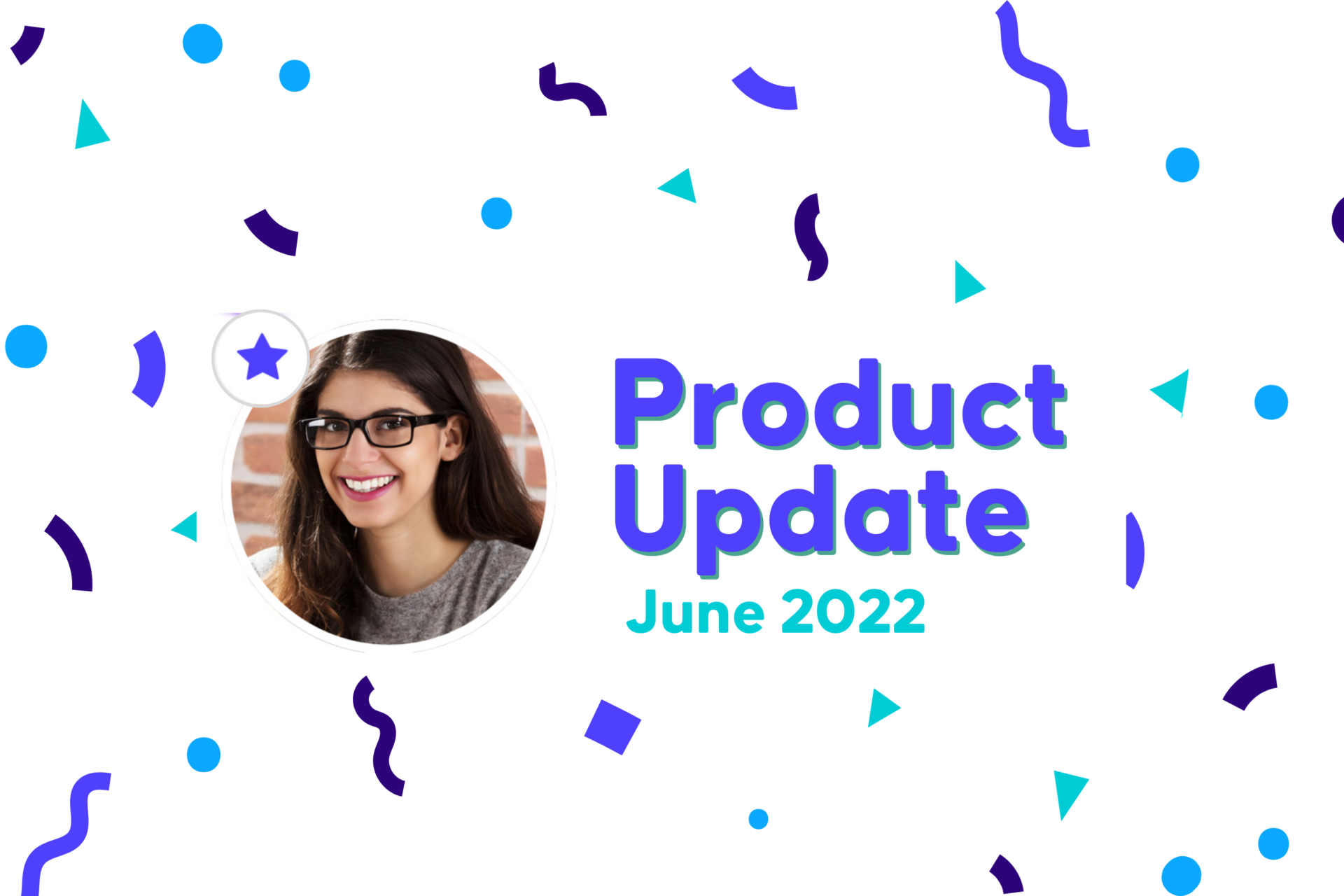 InSpace's Latest Features to Enhance your Video Collaboration Experience
Your institution is committed to giving your students and instructors the best, most engaging learning experience. And we're committed to investing in new features that make your InSpace video collaboration platform even better. Here's what's new in our latest release.
Locked Breakout Rooms
Having the ability to have private discussions between an instructor and a student or group of students is important. But it's equally as important that these discussions are not interrupted by other participants moving into or out of the breakout room. 
That's why InSpace now offers the ability to lock breakout rooms to ensure privacy for 1:1 or private group discussions. Administrators and co-hosts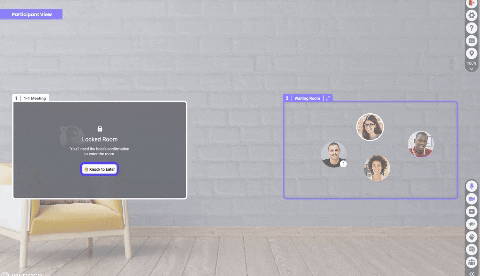 can lock and unlock the room so that others in the space cannot enter without permission. Participants will notice that a locked room has a lock icon next to the room name so that it's easy to see that the room is reserved for a private discussion, giving the participants the space they need without interruptions.
Recording Enhancements
The latest release of InSpace includes a number of recording enhancements designed to make it easier for instructors to share recordings with students and for students to record their own experience, right within the platform. 
Whole session recording allows session admins and co-hosts to record the entire session from their point of view as they move throughout the space. The recording follows the instructor as they move between different room types, recording the experience from the instructor's perspective. 
This capability is important because now, instructors can easily share the entire online classroom experience, regardless of the initial format, with students who attended and missed something or with students who were unable to attend class at all. And they can do so without having to leave the InSpace platform.
Students can also take advantage of new recording capabilities as well within the student spaces (as designated within the LMS). This feature will allow students to record videos and content within their student space, right from within the platform. They will also be able to share the student space content they record with anyone in their class or download the recorded content from their dashboard.
Giving students the ability to record within student spaces, without having to upload separate files from a third-party recording app, allows for a more seamless experience with group meetings and videos as they can do everything they need, all within one platform. From group projects to video presentations, the ability to record from within the student space gives students greater flexibility to record and share content, collaborate with peers, and complete assignments on their own schedule. 
Lastly, multiple hosts can now record at the same time within the auditorium space. Each host can start, stop, or resume their video. And they can access their recording right from their dashboard, similar to how they would access other recordings like the ones mentioned above.
A New Way to Reduce Fatigue and Support Mental Health
InSpace is committed to enhancing our video collaboration platform to make the experience better and less stressful for all participants. And now, we have a new feature to support mental health and reduce fatigue.
With this release, InSpace enables participants to hide their self-view. There are a number of reasons why having the ability to hide a view of yourself is important.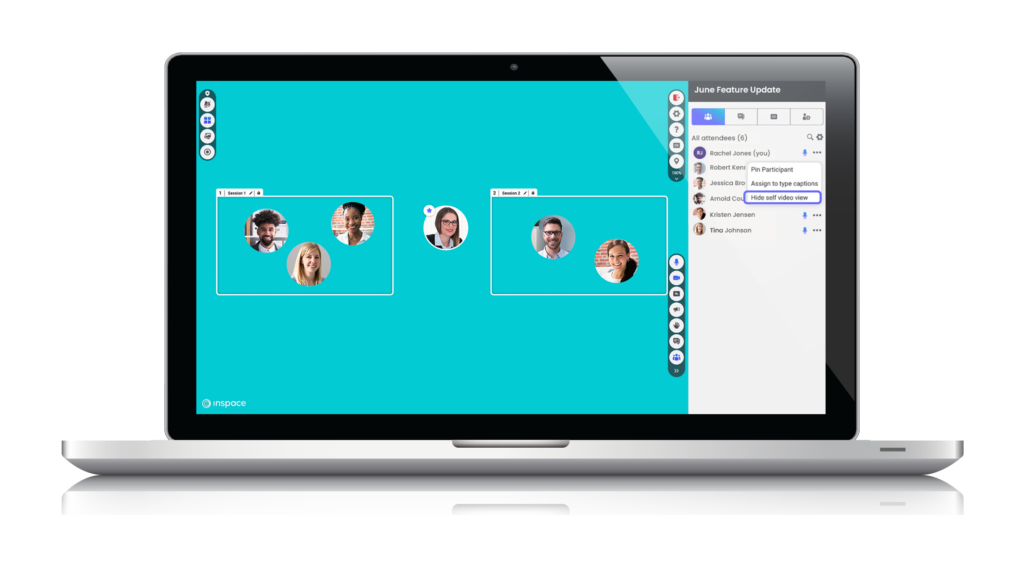 Turning off your self view reduces fatigue. Seeing yourself participate in a meeting or discussion – where you can see yourself talking, making decisions, or giving and receiving feedback – is unnatural. And according to a study by Professor Jeremy Bailenson, founding director of the Stanford Virtual Human Interaction Lab (VHIL), it's "taxing" and "stressful." 
Bailenson goes on to report that seeing yourself on-screen session after session can result in "negative emotional consequences." Why? Because seeing yourself on screen is like someone following you around with a mirror. You begin to notice things about the expressions you make or the way you present yourself, and you may begin to critique yourself. For individuals who have experienced trauma or identity issues, having a persistent view of themselves could be distracting or even harmful to their emotional state.
Being able to hide your self view makes video collaboration more accessible to more people, without the risk of causing further stress or emotional impact. And, it helps participants avoid the fatigue experienced when they attend multiple sessions online. 
New Diagnostics
Ensuring InSpace participants can easily access all the video collaboration features the platform has to offer is important. And with the latest release, their ability to check their system before and during a class or session is now easier than ever before.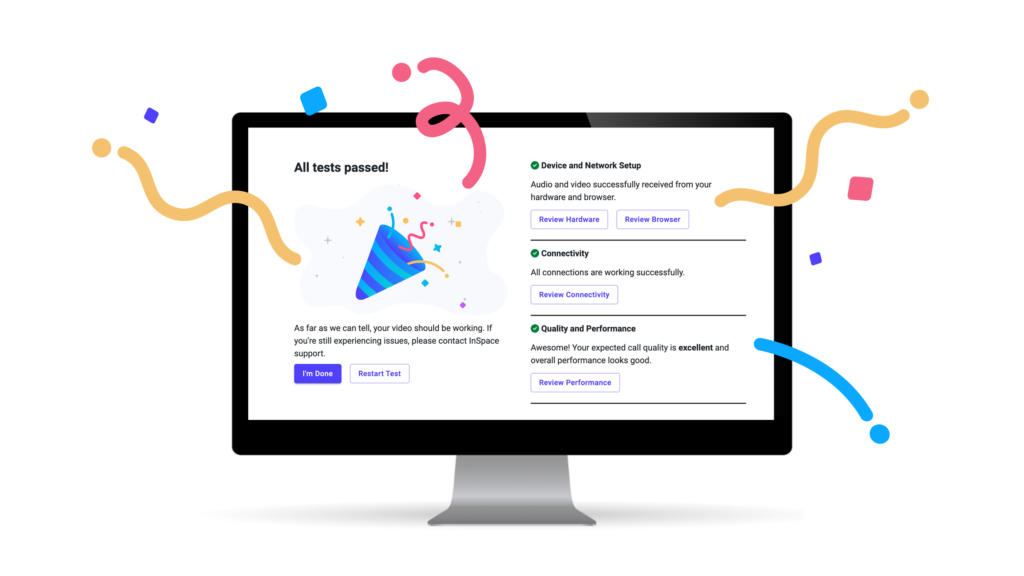 New diagnostics, accessible from the log-in screen or the help menu within the platform, allow participants to run system checks to ensure their video, audio, and other connections are all functioning properly. Using a simple, step-by-step system check, participants can test their device and network setup, connectivity, and quality and performance to ensure the best possible experience with the platform. And if a test fails, the participant receives information that helps guide them to quickly resolve the issue.
These new diagnostics help presenters and participants feel secure in the space by confirming the features and functions are all working correctly. And if the diagnostics do uncover an issue, they can easily troubleshoot the issue before the session begins so they are ready to go when class begins.
To learn more about all of InSpace's video collaboration capabilities, please request a demo.