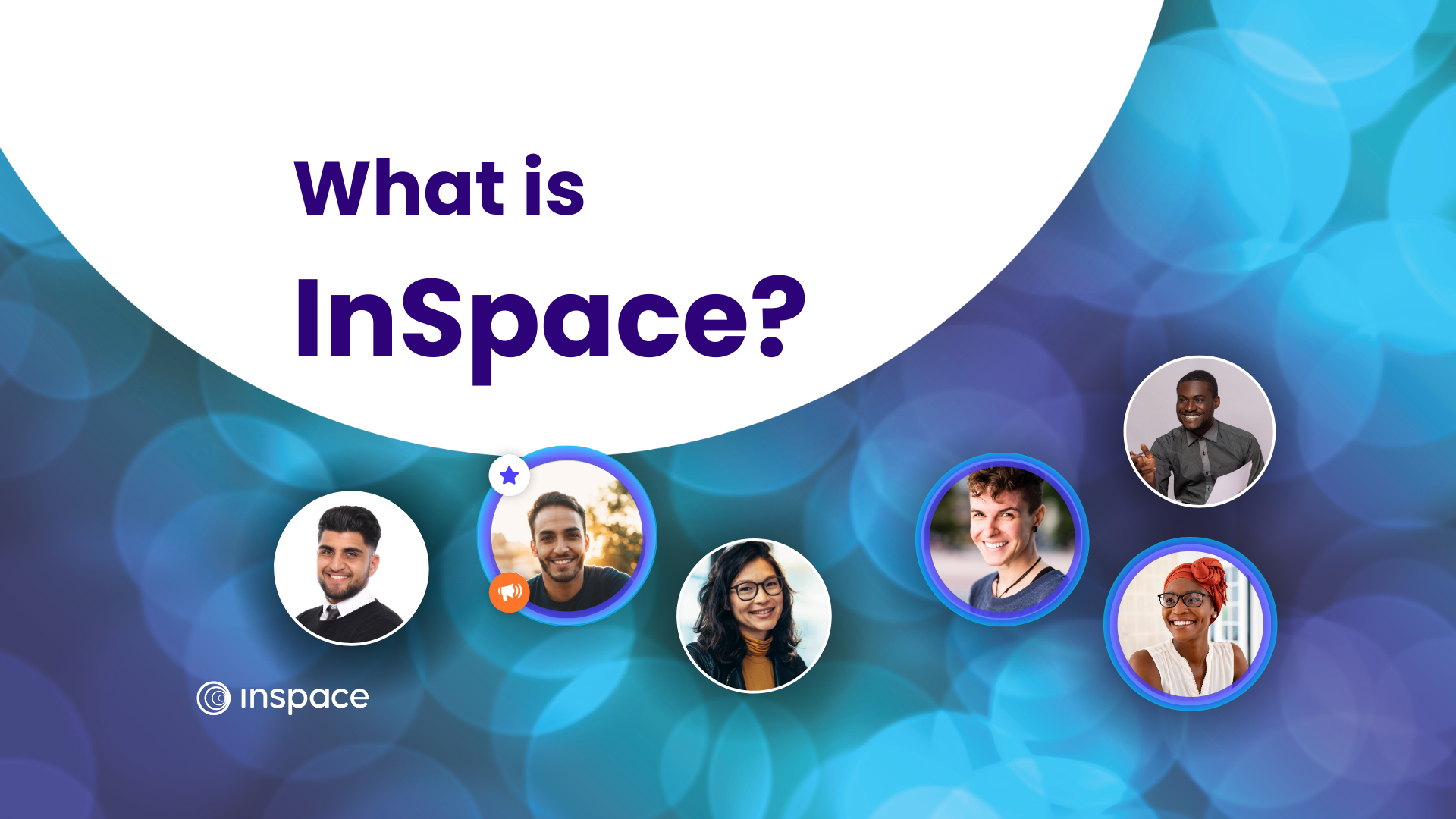 FAQ: What is InSpace?
InSpace is an immersive learning environment for connecting and collaborating online.
InSpace is a place for virtual teaching and learning with research-backed best practices. InSpace isn't purpose-built for boardrooms and slideshows (although you can use it for board meetings too). It's designed by educators, for educators, and packed full of thoughtful designs that put the student experience—and the expertise of the instructor—at the heart of the classroom. InSpace Classroom and InSpace Campus are tools for facilitating highly collaborative learning sessions like:
seminars
discussion sections
lectures with breakout sessions
capstone presentations
networking fairs and career nights
guest lecturer presentations and Q&As
workshops & trainings
events and webinars
community events and socials
Take a look at how our community uses InSpace to connect students and educators across campus:
FAQ
Is InSpace free?
It's free to attend sessions as a guest. To host sessions, you'll upgrade to a licensed account, which gets you unlimited access to hosting and recording sessions.
How many participants can join an InSpace session?
Sessions in a single space support up to 50 participants. Experience Hubs can support up to 12 subspaces, each with 40 participants or up to 11 subspaces, plus an Auditorium with a total capacity of 300 participants. Standalone Auditoriums have a capacity of 300 participants.
Do you need an account to join an InSpace session?
Yes, participants need an account to join using the shared invite link through their browser. Note: hosts may request an open link by contacting their InSpace customer success manager. This will allow them to host sessions without requiring sign-in from participants.
Do you need an account to host an InSpace session?
Yes, in order to set up and launch sessions, you'll need an InSpace account. Sign up for a free trial account here!
Do you need to download anything to join or host an InSpace session?
No, you can access InSpace directly from your browser here. You can also join from mobile with our mobile app for iOS or for Android.
Do you have a desktop or mobile app?
Yes, we have mobile apps for iOS and Android. We are a browser-based application (Chrome is preferred), so there's no desktop app to download if you're on a computer.
What's the difference between InSpace Classroom and InSpace Campus?
InSpace is now offering two different LMS integrations. InSpace Classroom is the original InSpace LTI integration. It offers three dedicated spaces for working with students: the Virtual Office, Student Space, and Classroom. InSpace Classroom is designed specifically for teaching & learning use cases in small format classrooms (<50 students).
InSpace Campus is our latest InSpace LTI integration, currently available for Canvas LMS, is designed for student services and other use cases serving larger populations. It puts our Experience Hub directly into your Canvas course environment so you can integrate drop-in student services, tutoring, advising, and more in your students' environment, allowing them to access services quickly and in context.
What's your privacy policy? Is InSpace SOC II compliant?
You can read about our privacy policy here. InSpace has achieved SOC 2 Type II certification and undergoes an annual audit to ensure ongoing compliance. In our most recent audit, we passed every control within the audit, indicating a high standard of excellence in our privacy and security.