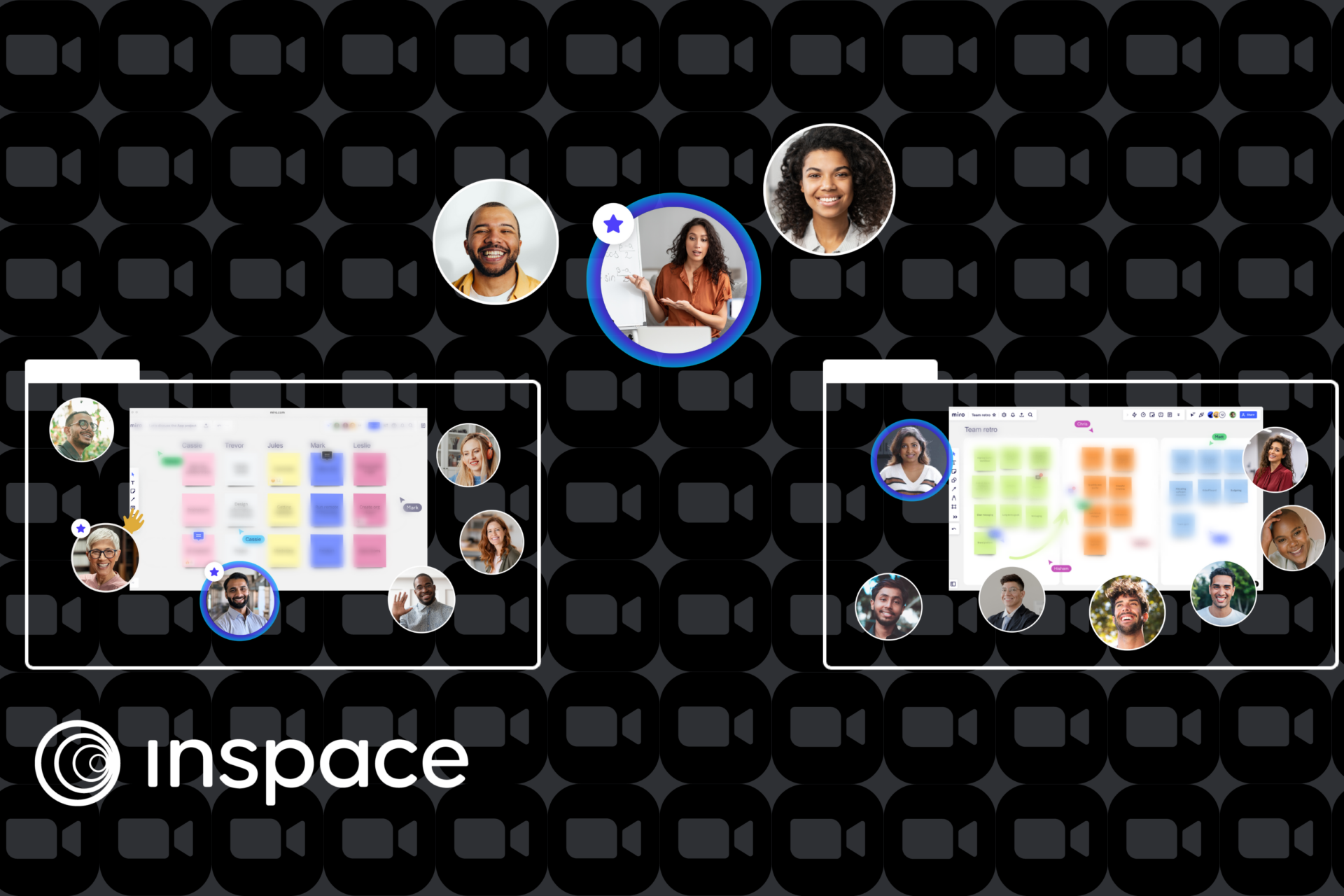 Comparision: InSpace versus Zoom
Video conferencing has become a staple in the world of remote work and online communication. With the rise of digital communication, platforms like Zoom have become increasingly popular. However, as education institutions look to the next normal and build sustainable ecosystems for learning and student support, purpose-built platforms become even more essential. Is your video conferencing platform built to last? InSpace Proximity is a virtual hub supporting academics and student services with engaging, personalized spaces that connect the student experience. InSpace designs virtual spaces where educators and students can build communities rooted in brain-based, research-backed best practices for fostering relationships, inspiring creativity, and supporting intellectual growth. 
The rundown:
InSpace
Offers a unique virtual environment that mimics a physical office, providing social connectedness via avatars
Allows users to collaborate in real time by sharing screens, files, and whiteboards.
Provides an intuitive, accessible, and user-friendly virtual environment
Designed by educators for educators and is purpose-built for education using neuroscience-backed principles and best practices pedagogy
Offers virtual breakout rooms, interactive whiteboards, and real-time collaboration
Cloud-based storage for all recordings — no charge for storage.
Zoom
Offers a basic video conferencing platform that does not provide any social connectedness via avatars
Offers limited collaboration features such as screen sharing and file sharing
Can be inaccessible and confusing to navigate, especially for first-time users
Built for the business world and is more impersonal, placing emphasis on a single facilitator
Can be used for education, but lacks purpose-built features that InSpace offers, such as virtual breakout rooms, interactive whiteboards, and real-time collaboration
Charges for storage of your recordings.
Purpose-built for education
InSpace is explicitly built for education. At its core, every feature is carefully considered for its impact on educators and students. How do we know? We consult with hundreds of educators in an ongoing process to make our product the best solution for faculty and staff working on modern campuses. We're not business conferencing software with instructional features added on
Research-informed design
InSpace's research-informed design allows for highly engaging learning experiences that honor the human presence of instructors and learners. Movement, choice, and collaboration are essential. Human brains love stories, faces, and variety when forming memories and neural connections, and InSpace delivers. On the other hand, Zoom is designed for meetings, where attention is often on a presenter or single focal point for an extended period of time. This ignores the reality of classrooms, where attention must constantly shift seamlessly between instructors, materials, and classmates.
Accessible virtual education prioritized
InSpace is created with the real-time input of accessibility experts and educators. Over 500 educators and counting have given input on InSpace, and leading expert David Berman provides consultation on accessibility and universal design. And Zoom? The evidence on the web speaks for itself. There are countless tutorials in the educator and disability communities on "making Zoom work" for education and accessibility needs. Zoom wasn't designed from the start with either community in mind, and it shows. While accessibility features have been added, they are add-ons, not foundational Zoom design elements. One example illustrates the difference: With InSpace, closed captioning is controlled by the individual user. This is true of every other accessibility setting in InSpace as well. Every participant controls their own views and controls so that they can customize their experience of the space. They do not need to disclose a disability or rely on others to adjust their settings to access the space.
Student-centered classrooms and services
Modern education is a hybrid, wraparound endeavor encompassing much more than just the classroom. Educators across all departments must be proactive and ready to meet students where they are. Every student journey and use case for InSpace centers best practices for teaching and student support as they are understood by experts in the field today: data-driven, student-centered, collaborative, interactive, and available for drop-in, synchronous, and asynchronous applications.
Collaboration and connection-powered campuses
On InSpace, visual connection and collaboration are prioritized. InSpace breakout rooms are visually connected, meaning no one must leave the space to go to a breakout room. Collaboration also takes place inside the session, so classroom communities stay intact, and those intangible learning moments and connections can be shared by everyone in the space. Proximity bias matters to the human brain—and all students deserve to be in on the classroom action and able to control their experience, not marooned in breakout rooms. On the other hand, Zoom sends students out of the space frequently, whether to isolated breakout rooms or into other tabs to work on collaborative documents. This segments the class into small groups and creates an isolating effect. It also creates additional stress for the instructor, who cannot maintain contact with their students all at once during class.
Education & accessibility-friendly recording & storage
Education and accessibility best practices demand that recordings be made available to students. When your institution is forced to ration recording storage to make budget, student needs aren't placed at the center of your decision-making. InSpace never forces you to cut access to instruction or student services to make costs. Storage for recordings takes place on our cloud and is included in your plan—no tiers, no penalties, no need to delete as you go.
Educator-led, built, and informed
As a company, InSpace is not only founded and led by educators, it hires educators into influential roles. It is responsive to feedback from educators who use the platform and share ideas about improving teaching, learning, co-curricular experiences, and student support services. Customers provide feedback on their challenges, and InSpace finds solutions. Every feature is carefully considered for its impact on teaching, learning, and student support.
Conclusion
Overall, InSpace is the more favorable platform for remote communication, especially for educators and students. Its unique virtual environment creates a sense of social connectedness and promotes collaboration, leading to better student learning outcomes. InSpace is specifically designed with education in mind, and every feature is carefully considered for its impact on teaching, learning, and student support. With InSpace, students can enjoy an immersive and engaging virtual campus experience that keeps them connected and engaged.