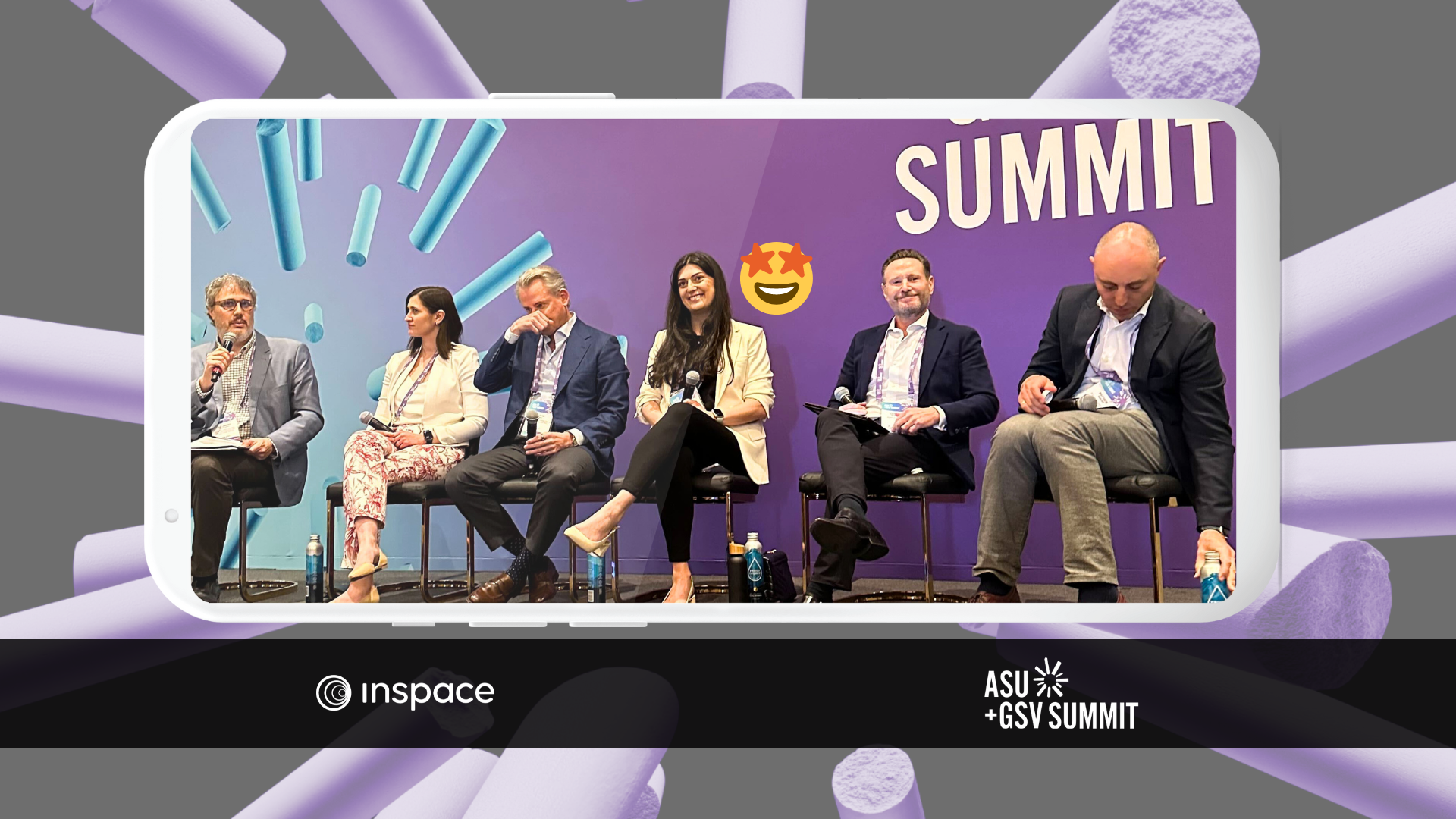 Digital Transformation in Education at ASU+GSV: How InSpace, AI, and Industry Partnerships Transform Learning
InSpace CEO Narine Hall on Humanizing Online Learning, Education Partnerships with Industry, and Embracing AI
On April 17, Narine Hall, Ph.D., CEO and co-founder of InSpace participated in a panel discussion at the 2023 ASU+GSV Summit in San Diego. The conversation focused on digital transformation and the unprecedented challenges and opportunities facing modern higher education, as well as the ways innovation will shape the future of learning.
The discussion touched on student perceptions and experiences of education. Students are digital natives who want to experience education the same way they experience other things in life – think personalized and just-in-time, like online banking, Uber, and Netflix. Matthew Rascoff of Stanford University pointed out the 'jobs to be done' in higher education are shifting alongside this. The value of education is shifting from the legacies of the past to a new understanding. Teaching and learning are still essential, but the creation, dissemination, and preservation of knowledge are taking on different importance as folks gain new understandings, especially with AI. An important point here is that the value proposition in higher education is shifting to the community created there–this is something uniquely human and can't be commoditized. Leo Schlesinger of Aliat Universidades added that content and technology are enablers in this – the means for developing students to their full potential.
Hall noted the shift to a skills-based economy, specifically one placing a premium on soft skills requires questioning: How can togetherness and team-based activities empower learners to go beyond the content and build connections with each other?
Circling back to the influence of AI, Rascoff added, AI changes the power dynamic in higher ed. He pointed out that Hall's pursuit of industry and entrepreneurship with InSpace after her time as a professor at Champlain College is a proof point.
Hall had a lot more to say on the topic.
She described how years ago, she started a mailing list called Machine Learning for All.
There was a moment, she said, when she realized, "This is going to change people's lives, and we need people to understand what this is about. We need to democratize this knowledge."
So her interest in machine learning and AI began with these questions: What is this AI thing?
Is it biased, is it not biased, is it on our side or not? If you have large players with tons of data and they have access to their training and their models, what does it mean for the rest of us? Hall described her time as a professor in the data science program at Champlain College working on training data models and drew contrasts to the new open environment of AI today.
She continued, "For me, what's really critical is the partnership between academia and industry. The only way we're going to get this right is if we're working on this together and we have the tech resources, but also that institutional knowledge of what the learners really need and centering all of that effort around the student experience–around the advisor and teacher and professor experience. Because at the end of the day, that's all that matters. And I think what's really interesting is if we just focus on that, we can get the rest of the pieces correct.
And for us [at InSpace] it's always, can we get the student experience right? Because they are the consumers of this, everything we do.
On the future of the student experience: We're going to see a lot more personalized learning and meeting students where they are, and really helping them to achieve their goals in ways that fit their lives best and where they are in their journey.
On partnerships with higher ed and industry: I also think it's going to be interesting to see how the partnership between industry and academia goes. I want to see more educators in the industry. I think that needs to happen and we need to develop this together because it's new and it's different.
At InSpace, we partner with over 120 institutions, and they're so open to helping develop it together. So it fits perfectly into the applications and how it goes. […] If we don't collaborate together, we're going to create features that are just not, you know, relevant.
On InSpace's latest partnership with Southern New Hampshire University: We have partnered with Southern New Hampshire University in a large strategic partnership to really advance online learning because bringing that connection–the human element of collaboration and belonging–to online learning is so important. 
There are very simple things–how do we use, for example, things like AI to take the logistics out of the way and accelerate humans? So the advisors who are advising, for example, we summarize the conversation and have action items to pull up. So they don't have to scribble notes during the meetings. But they can actually just share those with students to follow up and really focus on that human element and connection when they're in that meeting.
So I think we're going to see a lot of really interesting acceleration in education in that space.
---
Want to learn more about the advising solution InSpace is building in partnership with Southern New Hampshire University? Book a time to talk with us here.