How to Activate InSpace in Canvas for Students
Listed below are student resources for activating InSpace in Canvas for your courses.
Welcome, Students!
If you are enrolled in a Canvas course which includes the InSpace platform for virtual communication, the following information will help you to familiarize yourself with the platform.
What is InSpace?
InSpace is a video conferencing tool designed and built by educators to improve the instructional experience through unique virtual interactions that invite authentic, human connections and interactions. The following video introduces you to the basic features of the InSpace platform:
Where do I find InSpace in my course?
You can find the InSpace area in your course by clicking the InSpace link in the Course Navigation menu to the left of your screen, and click the 'Get Started' option.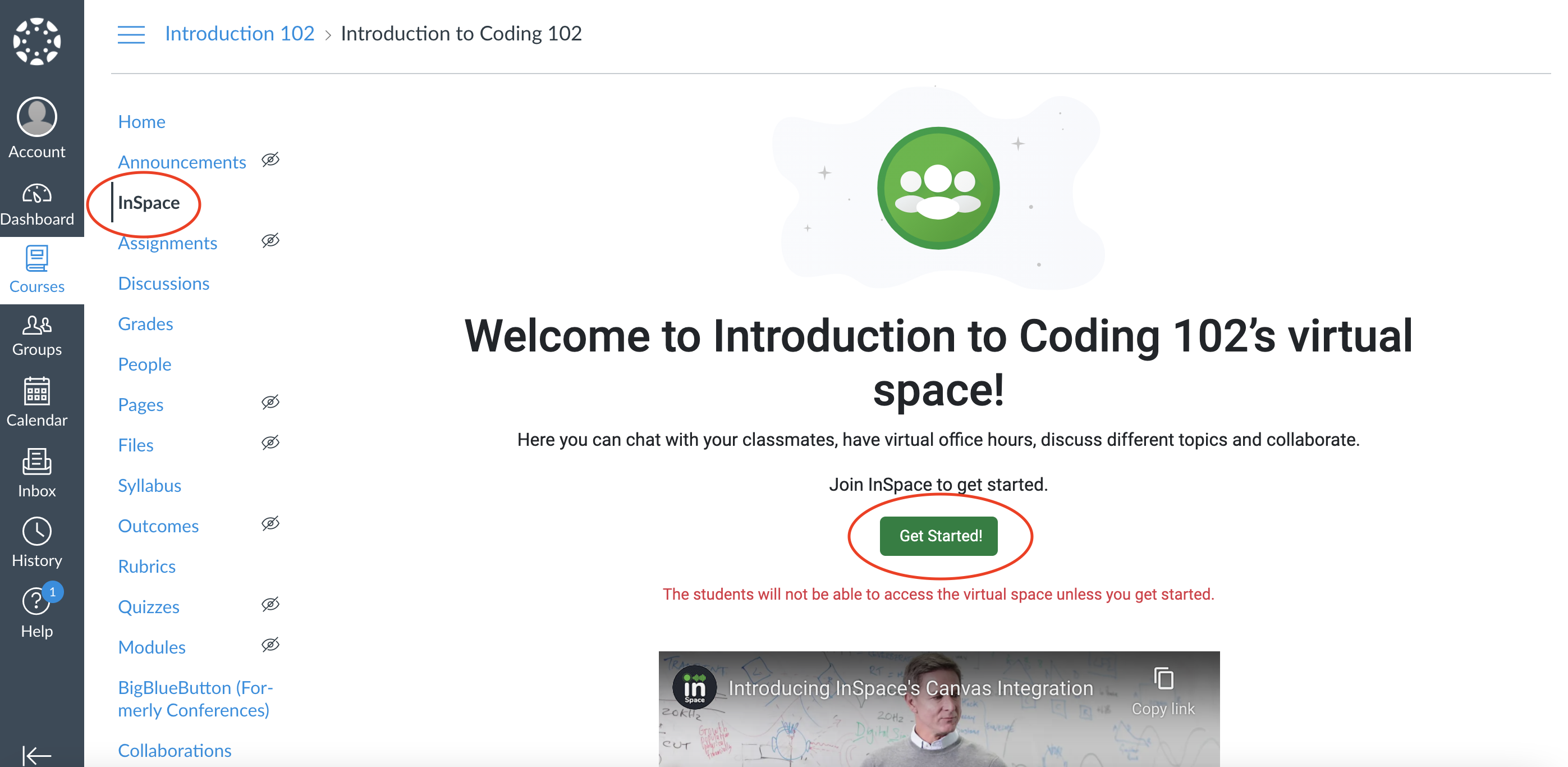 There you will find a virtual study space where you are invited to connect with other students in this course at any time. The study space is always open and available (See Picture Below).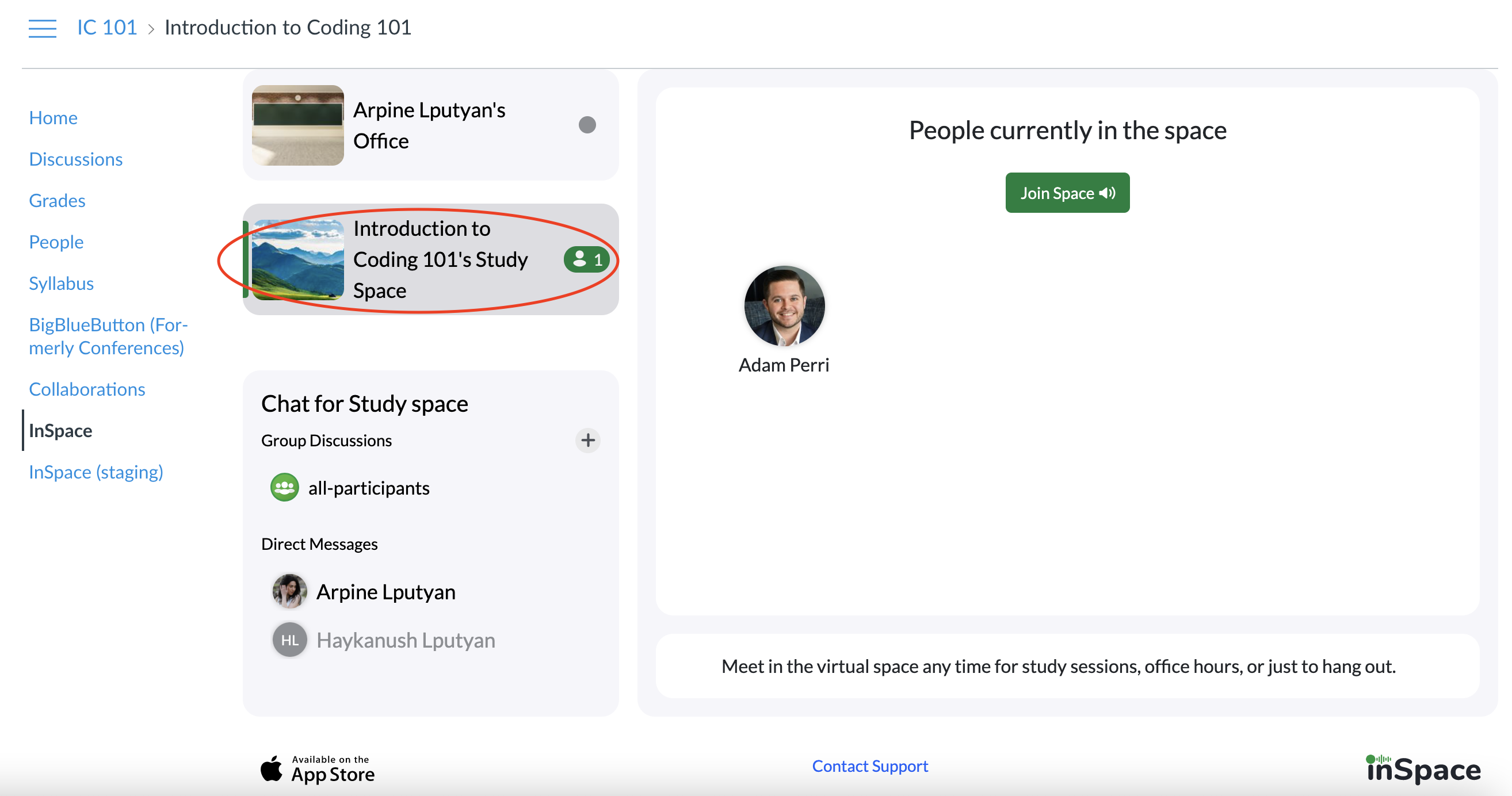 STUDY SPACE VIEW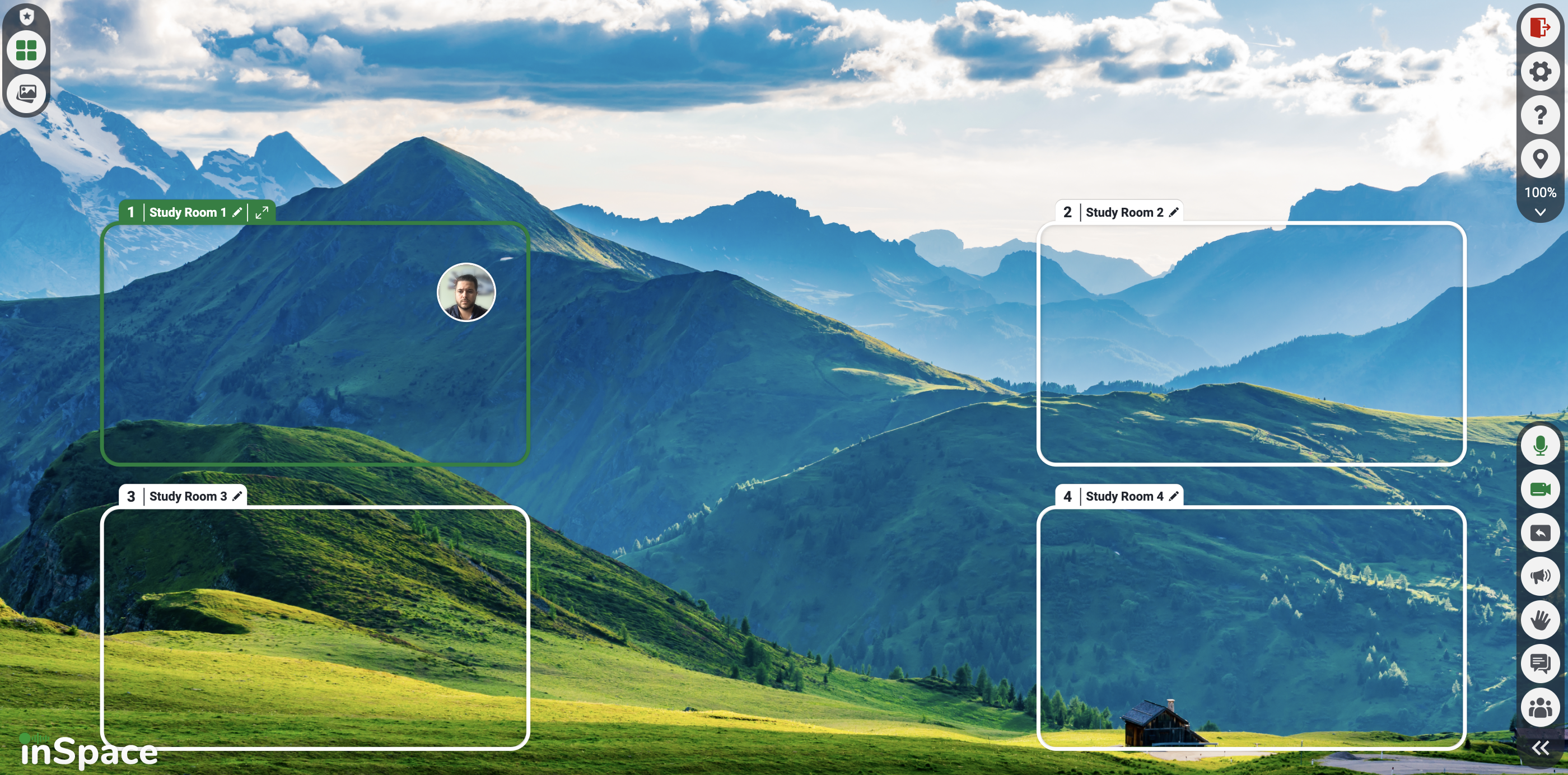 You will also find a virtual office space where you can connect individually with your professor. The office space is only open during the hours that your professor makes it available. Additionally, you will see a chat area where you and others in this course can communicate at any time. (See Picture Below)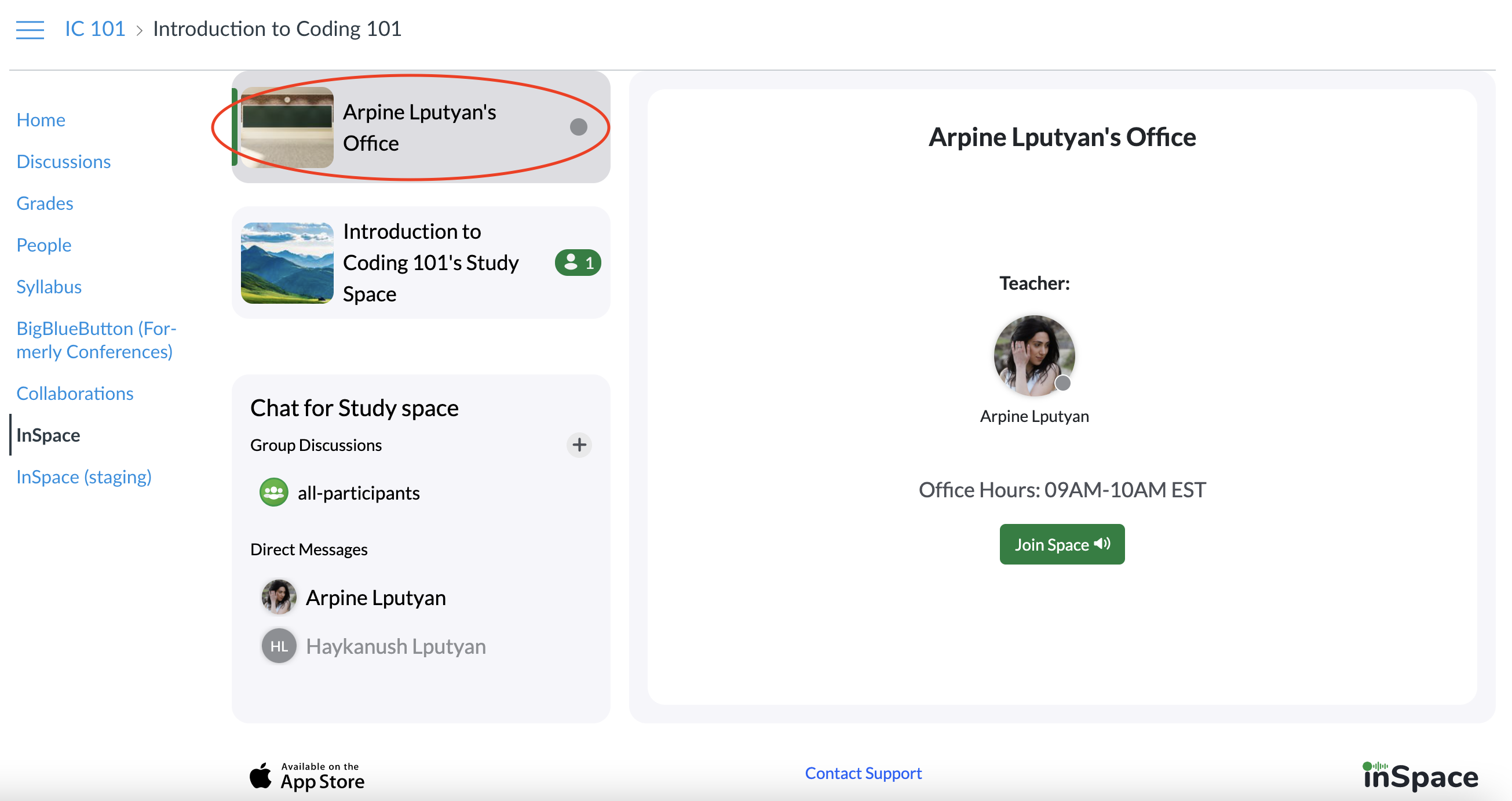 VIRTUAL OFFICE HOURS VIEW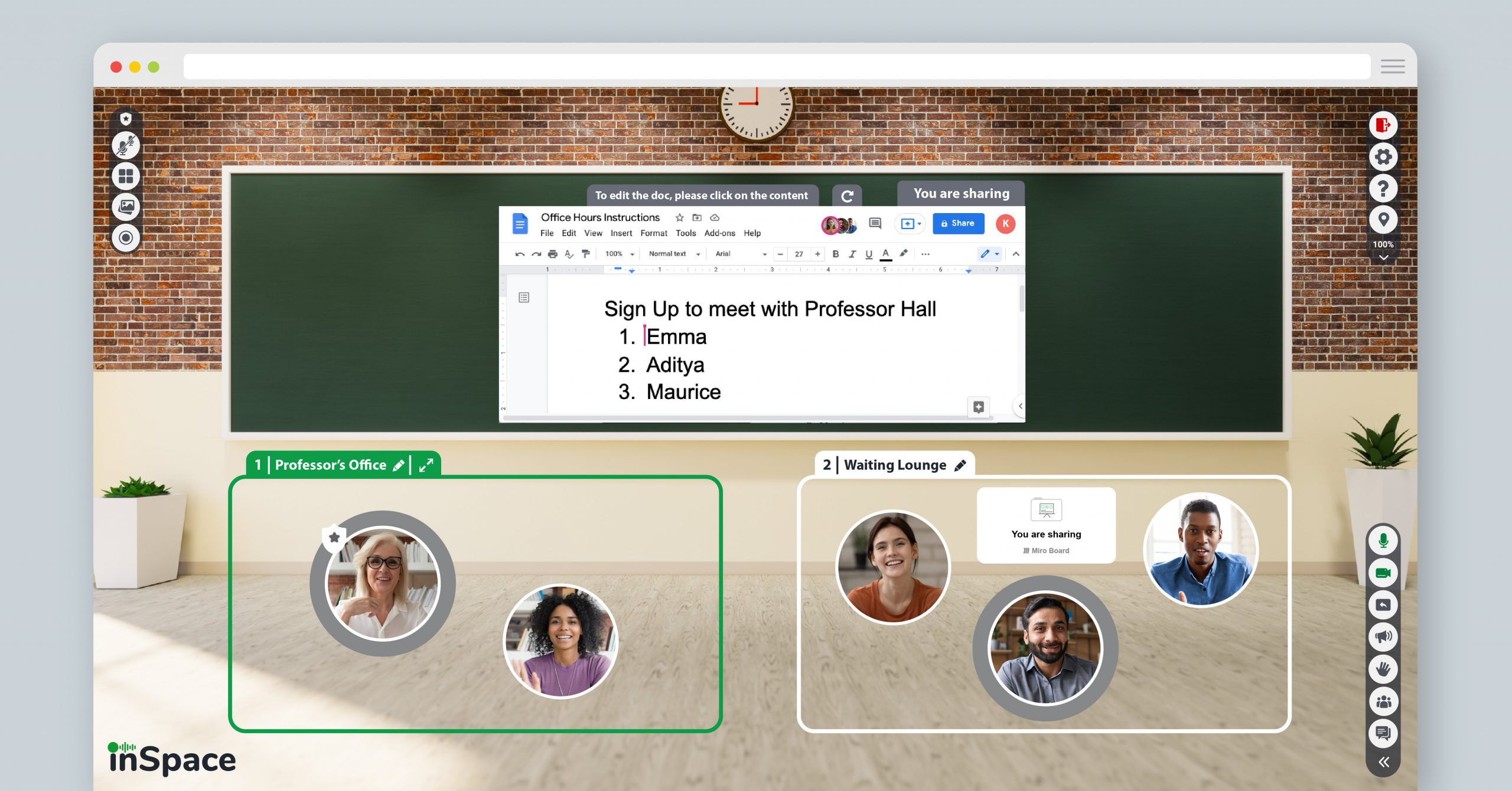 The following information will help you to prepare to use InSpace in Canvas:
For the best experience, please use the Google Chrome Browser, or Mozilla Firefox with your PC/Mac (you can download Chrome here. If you're using an iPad/iPhone, please download the 'InSpace Proximity' app from the Apple Store. You can also use Safari, but make sure your iOS is updated. Out of date iOS may cause you to experience performance issues.
If your mic/video isn't working when you enter the space, leaving the space and then signing back in will usually resolve the issue. For additional support, try these tricks to get your mic/video working.
If you need any tech support during or prior to class, email support@inspace.chat and a member of our team will help you.
Wishing you a happy learning journey on InSpace!