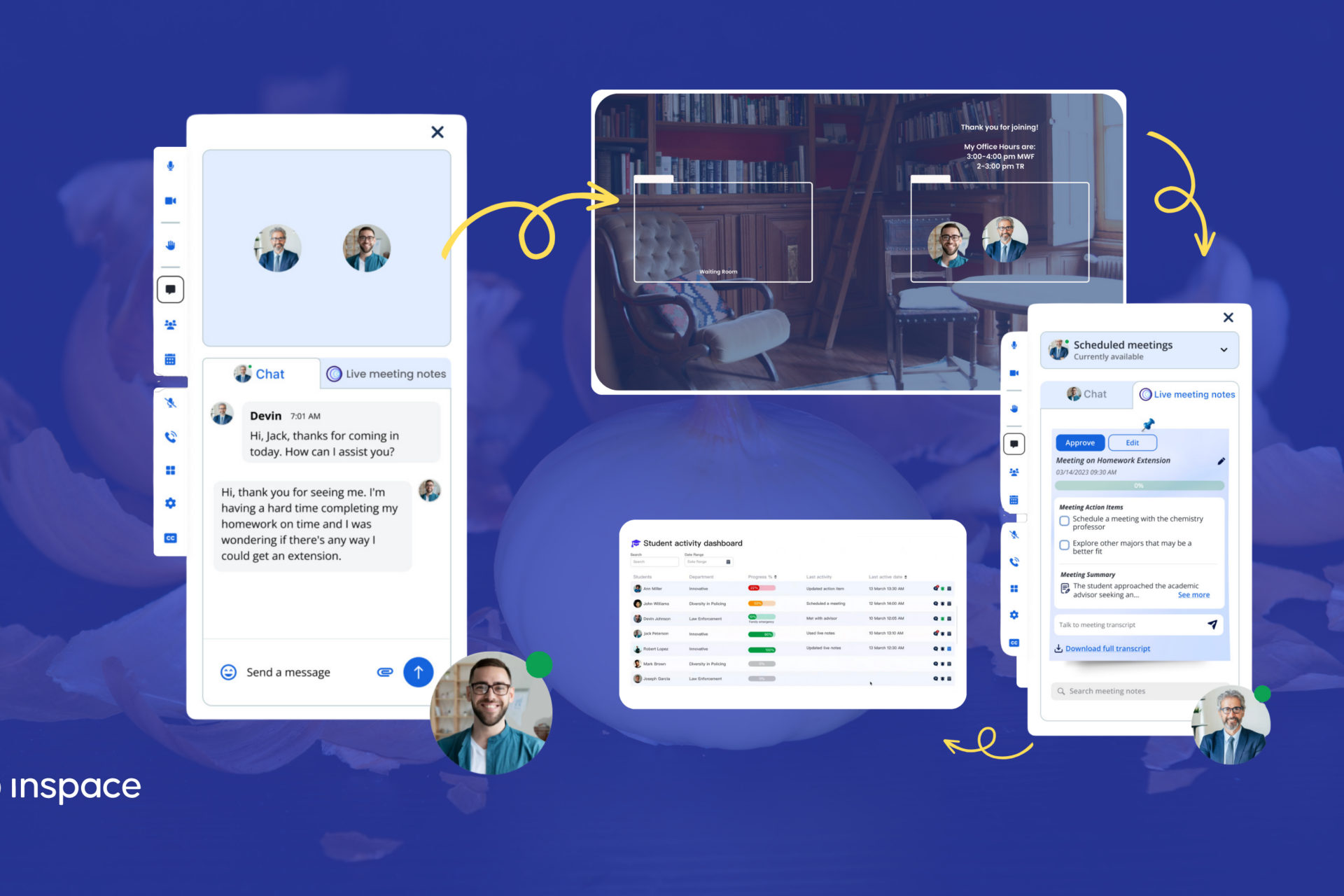 InSpace's AI-Powered Platform Streamlines Student-Advisor Connections
High percentages of students still aren't meeting with advisors, and those who would most benefit tend to be at-risk learners who would benefit from appreciative advising practices.
One in ten students doesn't meet with their advisor during the academic year (Kuh, 2008), citing the inconvenience of sessions and poor perceptions of the academic advising experience (many cited advisors who share inaccurate information).
Unfortunately, in the 15 years since, the issue has morphed rather than been resolved. In the recently released 2023 Student Voice survey, just 55 percent of respondents reported they received guidance on their degree progress from an academic advisor.
On closer examination, the study revealed stark differences in experience along demographic lines, with historically marginalized students facing more barriers to meeting with advisors and receiving timely course advice.
But as Nelson (2013) writes, advisors must make their value clear to students by helping them make connections on campus (easing the bureaucracy of campus structures, critical for first-generation students).
Higgins (2017) places academic advising squarely within the teaching and learning mission of higher education, as it allows the advisor to "guide students through meaning-making, skill identification and development, critical thinking, scaffolding of knowledge, and acquisition of transferrable skills."
In other words, rather than positioning themselves as a single source of truth on campus, advisors must collaborate with students to support them in acquiring the skills to navigate the institution—and this is especially essential for advisors serving historically underrepresented student populations.
For culturally relevant pedagogy experts like Zaretta Hammond, such practices combat the "insidious gaps" perpetuated by dependent teaching practices that over-scaffold learning experiences for students, especially those growing up in chronically and systemically under-resourced communities. Hammond writes, "Educational disparities went beyond the digital divide and access to technology: the more insidious gaps were in the ability of students to be independent learners during distance learning" (2021). Such disparities carry over into the challenges students face beyond high school.
For at-risk adult learners, appreciative advising practices, or "the intentional collaborative practice of asking generative, open-ended questions" to help students make the most of their education, are an alternative to top-down prescriptive advising practices. Appreciative advising "creatives a dialogue with students and helps to form an 'alliance' between advisor and student" (Smith, 2023).
Commonly paired with an understanding of Social Penetration Theory, more popularly known as the Onion Theory, which "suggests that people tend to 'peel back the layers' of intimacy through conversational interactions and reciprocity" (Carpenter & Greene, 2016, in Smith 2023), these practices remove the focus from advisors as providers of information in the relationship and empowers students to be curious and equal partners in their educational experience. When students must participate in the conversation as responsible parties tasked with making meaning of their academic lives, there is less room for resentment of advisors as outsiders.
These practices remove the focus from advisors as providers of information in the relationship and empower students to be curious and equal partners in their educational experience.
Your campus, everywhere.
One code on your platforms unites your campus tech stack for an equitable and accessible student experience.
InSpace's immersive AI-powered video platform gives students more control over their online learning environment, empowering them to make meaningful connections with their peers, staff, and professors with the click of a button.
InSpace is known for putting community, collaboration, and relationship-building at the center of online teaching and learning. Now, this immersive learning environment is available campuswide as a front door for everyone at your institution, streamlining processes and logistics for students and staff.
Install anywhere your students are.
InSpace's intuitive online education platform, designed by and for educators, promotes purposeful, productive, and joyful connections between students, professors, advisors, and coaches. It seamlessly integrates with existing learning management systems, adding innovative features such as AI-powered virtual assistants and live notes. And, InSpace removes barriers, provides flexible opportunities, and builds strong learning communities.
AI-powered features, including a virtual assistant that harnesses institutional knowledge to answer students' questions in real time.

With one click, students who need help can see when advisors are available, make an appointment, add it to their calendar, and join a meeting—all in one beautiful, fun, and collaborative space.

An innovative Live Notes tool seamlessly generates meeting notes, summaries, and action items, providing students with a clear course of action.

Notes are saved in a centralized, searchable archive, where students and staff can quickly reference previous conversations.

Dashboards for professionals enable at-a-glance check-ins, nudges, and notifications so that students don't fall through the cracks and advisors are always up to date on student progress.
When it comes to academic advising, students seek meaningful connections with peers, faculty, and staff on campus, but it's not happening enough.
At InSpace, we're passionate about creating learning experiences that center the joy of the student journey and make learning a social experience. Students thrive when they collaborate with others, including with their academic advisors. The student experience blossoms when students themselves take ownership of the student experience in collaboration with their advisors.
With the launch of the campuswide InSpace advising experience, we're working to dismantle barriers to quality conversation and connection.
Together, we'll harness the power of technology to take the logistics out of the way for advisors, students, and administrators so they can focus on what they do best: learning, teaching, and building community.
---
We hope you will join us as we reimagine the future of online education together.