Screen Sharing Issues – No Sharing Option
If you are unable to share your screen, you may need to adjust your Chrome browser settings to allow for screen sharing and recording to take place.
This is primarily an issue affecting browsers and Mac devices that can prevent recording and screen sharing from taking place properly. Follow the steps below to check your settings and make sure your device is recognizing your saved settings.
If you are using a Mac device, please check your browser's privacy settings as follows: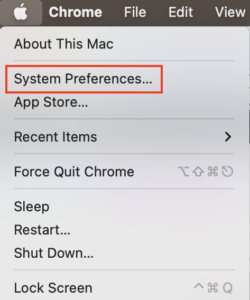 Navigate to your computer's System Preferences.
Select Security & Privacy.
Click the Privacy Tab.
Scroll on the left menu through the privacy options until you find Screen Recording.
Click the Lock to make changes.
Check the box for the applications you would like to have permission for screen sharing; for InSpace, this is Google Chrome.
Click the Lock to save changes.
Click Quit & Reopen in order to implement the new settings.
*If your device shows that you have enabled screen recording, but your browser still says you have to enable it, please disable and then enable screen sharing again from your System Preferences. After doing that, fully quit Chrome (Command Q) and shut down your Mac device. Restart and proceed as normal.
If you need additional help, please contact InSpace Support.