Locked Rooms
Use InSpace locked rooms for uninterrupted work time or office hours.
Administrators and co-hosts can lock and unlock breakout rooms so that others in the space cannot enter without permission. See locked breakout rooms in action here. 
The locked room functionality allows hosts to lock any of the breakout rooms during a class or session.
Hosts must click the 'Lock' on top of any breakout room (Discussion Room, Presentation Room, Breakout rooms) to lock the room.
To enter a room, participants must knock to enter.
Hosts will receive a notification that the user is requesting to join a room and can approve or decline the request.
Participants will not be able to join the room unless the host or co-host allows them into the room.
Participants will also get a notification when they are admitted or denied access into the room.
Hosts and co-hosts do not need permission to enter a locked room.
Note: The student space offered in all our LMS integrations allows students to lock one room at a time.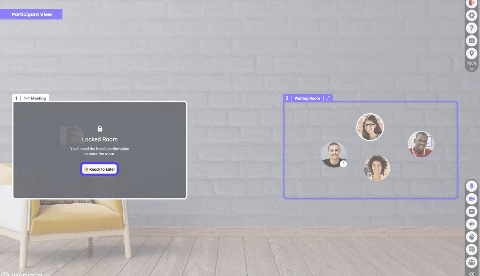 If you need additional help, please contact InSpace Support.