Conference Space
Hosting a virtual event for your campus? Our conference space offers an easy way to facilitate between up to four rooms all in one space!
Features of the Conference Space:
Capacity for up to 200 users (50 users in each room).
Easily allow attendees to navigate in between rooms at their leisure, just like a real conference.
Fully customizable setup for room names and background images.
Recording feature available inside each room.
Configure breakout rooms for attendees to network and discuss topics together.
*Ability to add up to 6 rooms and/or an Auditorium Space to configuration by request*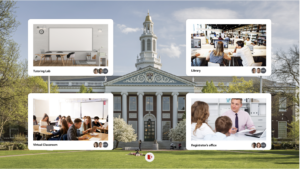 *A product image of the Conference space shows four, individually labeled rooms. This setup allows attendees to easily enter and exit each room. From the reception area, attendees can also see who is in each room.
If you need additional help, please contact InSpace Support.