Automatic Closed Captioning
Automatic Closed Captioning can be enabled by all participants from the CC icon in the user toolbar.
Closed captioning is enabled and disabled on a by-user basis. Each participant controls their own automatic closed captions.
Live captioning can still be turned on by the session hosts when assigning someone to type captions or using the StreamText integration. Learn more about our live captioning capabilities here. 
In order to provide a transcript of a session, hosts should record the session and be sure to toggle on Enable audio transcription for video recording. This will create an audio transcript that can be shared and downloaded along with the video recording of the session.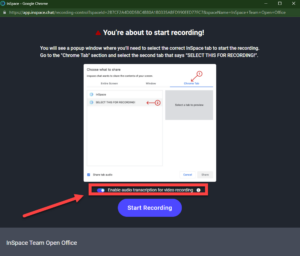 If you need additional help, please contact InSpace Support.