Auditorium Space
Our auditorium space can be utilized for larger class sizes, events, lecture halls, company meetings and more!
Features of our Auditorium Space include:
Host-moderated live questioning feature lets attendees step up to the mic to ask questions during presentations.
Capacity for up to 300 attendees.
A stage for up to six speakers at once.
Full chat capability between all attendees.
Customizable background image.
Screen sharing for optimal presentations.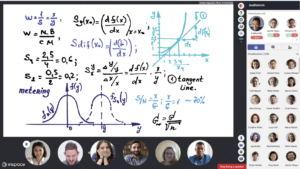 *A product image of the Auditorium shows six speakers presenting. Their circles are largest and appear at the bottom of the screen. Attendees with questions are visible speaking on the top right of the screen, while the remaining attendees are arranged in rows on the right side of the presentation.
If you need additional help, please contact InSpace Support.